Remarks come as Sun debuts x86-based servers using Linux, Solaris
Printer-friendly version
Email this CRN article
Sun Microsystems' top executive last week said the vendor dropped its 32-bit architecture too quickly in favor of 64-bit computing.
"On the server side, about 1989, '90, we dropped the 32-bit server strategy," said Scott McNealy, Sun's chairman, president and CEO, at LinuxWorld. "We just said, 'That's dead,' that it's not going anywhere. You won't hear me say this very often,I was wr-wr-wr-wr-wrong."
McNealy's rare mea culpa coincided with Sun's introduction of x86-based servers using Linux and Sun's Solaris operating system.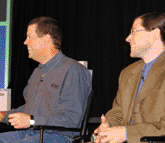 Sun's Scott McNealy and Jonathan Schwartz (l. to r.) are all smiles at LinuxWorld.
Thanks to its acquisition of Linux server appliance vendor Cobalt last year, Sun is already a big Linux player, McNealy said. "But now we're going more
general-purpose," he said. "And stay tuned. This is not like we just discovered Linux, or we now have to go hire a bunch of Linux engineers. We are here, and we've got the platform to support it."
One solution provider, who preferred to remain anonymous, questioned the move to embrace the x86 platform.
"It's a sellout," the solution provider said. "It just makes Sun a me-too. They've always been set apart with [their operating system. . . . They have the best operating system in the world."
Indeed, McNealy took aim not at his normal rivals but at Dell Computer while discussing market positioning for the new LX50 servers, saying his company will be more than price-competitive with Dell.
"We're buying the same motherboard package and the same white box from the same Intel who's getting it from the same Asian suppliers," he said. "The only thing different is the little Sun purple cover. The little piece of plastic. It's about 14 cents. That's the only difference. And my 14 cents is the same as their 14 cents."
In addition, Sun gets the Solaris 9 and Linux operating systems for free, giving it another advantage over Dell, McNealy said. "Two for the price of none, that's what we offer," he said. "[Dell has to go out and buy Red Hat, and they have to go out and buy Windows."
Sun also provides a big advantage to software developers with its Sun ONE software stack, which includes Sun ONE App Server, the Sun ONE Directory, developer tools, and ASP and Java Server Pages (JSP) technologies, McNealy said.
"Zero cost of goods sold, zero royalties for us," he said.
Finally, McNealy cited as advantage Sun's worldwide service and support network for the new servers, which covers enterprises, retail shops and distribution environments and has engineers on staff who understand both Linux and Solaris.
Printer-friendly version
Email this CRN article