Printer-friendly version
Email this CRN article
Linux leader Red Hat last week reached a long-awaited milestone in its eight-year history: its first-ever profit.
The Raleigh-based company earned $305,000, or break-even per share, for its third fiscal quarter ended Nov. 30. That compares with a loss of $15.1 million, or 7 cents per share, for the same period a year ago.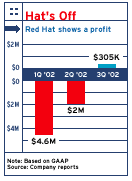 For its second fiscal quarter ended Aug. 31, Red Hat registered a loss of $2 million, or 1 cent per share.
Red Hat executives said they attributed the third-quarter results to a 15 percent increase in enterprise revenue to $22.5 million, including a 50 percent increase in subscriptions for Red Hat Advanced Server. In the quarter, Red Hat sold 8,000 subscriptions for the Advanced Server, bringing the total number sold to more than 20,000 since it first shipped last May.
Compared with the same period a year ago, Red Hat's revenue increased 21 percent to $24.3 million. That figure is miniscule next to the $7.7 billion in revenue that competitor Microsoft recorded during its last fiscal quarter. However, Red Hat's first-ever profit signifies the growing success of Linux in businesses and open-source business models, observers said.
One profitable Linux solution provider said the entire Linux industry is benefiting from the increased corporate focus on cost reduction.
Many companies looking to rein in IT costs are evaluating and choosing Linux as an answer to their financial concerns, said Mark Robinson, CFO of Auto Rain Data Systems, a Spokane, Wash.-based SCO-authorized partner. The SCO Group, formerly Caldera, competes with Red Hat.
Red Hat's stock, which once skyrocketed to $151 per share during the dot-com heyday, rose only slightly following the earnings news early last week. By Thursday, Red Hat stock was selling at slightly more than $6 per share.
Printer-friendly version
Email this CRN article