Evans says services will now go through solution providers
Printer-friendly version
Email this CRN article
Red Hat has appointed its first channel chief as it prepares to take a second stab at building a channel.
Red Hat, based here, has tapped Michael Evans as vice president of channel sales and development. The company plans to launch a global channel program this year.
In his previous position as vice president of business development at Red Hat, Evans was responsible for executing a wide range of major partnerships with vendors such as IBM, Dell Computer and Oracle, as well as the company's global reselling pact with IBM Global Services.

Michael Evans is Red Hat's new VP of channel sales and development.
Red Hat launched its first reseller program in 1998 but then built up its professional services arm, which discouraged partners. The company has since reversed course and now hopes to generate the bulk of its revenue from product subscription sales, leaving the services business to solution providers, Evans told CRN. Red Hat also plans to diversify its enterprise product line for small and midsize market needs.
"There's a very large shift going on in the company to enable a global partner base to provide Red Hat subscriptions and services to those customers, and we're looking at using the partner model more than we have in the past," he said. "We don't plan to have a massive consulting sales force."
Red Hat, which primarily serves enterprise markets, also plans to have a more stratified range of product offerings to meet the needs of various channel partners, including options for large, midsize and small end-user companies in its Advanced Server and related offerings. That includes the recently launched Command Center service, part of Red Hat Network services.
Red Hat plans a two-tiered strategy. "We want to work through partners of the big players, such as IBM, [Hewlett-Packard], Oracle and Dell. IBM business partners is one of the groups we have high interest in, especially the xSeries group," Evans said. "We also have an organization building a plan to pursue partnerships with the integrators and VAR groups,from the big guys all the way down to the midsize guys."
Margins and program fees have not yet been finalized. Partners will receive discounts on Red Hat's server subscriptions and on managed services they sell, he said.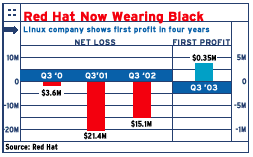 "There's a good possibility that I will be increasing where I might try to push Linux," said Jeff Sherman, president of Warever Computing, a solution provider in Los Angeles. Although demand for Linux is low, Sherman may participate in the Red Hat program if the terms are enticing, he said.
Factors such as cost and details of the program for solution providers serving the small and midsize markets would determine whether he ultimately participates, Sherman said.
However, Red Hat has an uphill battle with some partners.
"If our past interactions with Red Hat are any indication as to how they will be handling their channel program, then we will not be participating," said Douglass Hock, president of IDEAL Technology, Orlando, Fla. "In the past, Red Hat has requested too much time, effort and resources with no ROI plan."
Printer-friendly version
Email this CRN article