Printer-friendly version
Email this CRN article
When the retail editions of Microsoft Windows Vista hit the shelves, system builders will need to ramp up their offerings to accomodate the new OS, expected early next year.
System performance will be one of the most important elements for building a successful Vista-capable system; fast processors and large amounts of RAM will be a must. What's more, to leverage the new Aero Glass interface offered by Windows Vista, high-performance video also will be a necessity.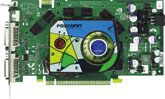 Hardware manufacturer Foxconn is looking to address this requirement with its latest video card: the 7950GT-OC, equipped with 512 Mbytes of high-speed GDDR3 video memory and an overclocked NVIDIA GeForce 7950 GT video processor.
For users looking for even greater performance, the 7950GT-OC offers support for NVIDIA SLI technology, which allows two cards to be paired together for a substantial performance boost.
The card is Windows Vista Ready and supports OpenGL 2.0, DirectX9.0c and Shader Model 3.0. As an added bonus, Foxconn bundles in the RestoreIT V7.0 backup utility and Virtual Drive Pro V10 CD Drive Emulator software, which in turn are very attractive add-ons for system builders.
The 7950GT-OC presents a decent compromise between cost and performance. The overclocked processor and fast memory ensures the card meets the needs of anyone seeking high-performance graphics—especially suitable for gaming purposes. Performance tests with 3DMark06 resulted with an overall performance index of 6022 at 1,280 x 1,024 resolution.
Overclocking increases heat output, so Foxconn incorporated a cooling fan on the card over the graphics processing unit. While the fan does a terrific job of cooling, it does add some noise to the system. System builders assembling media center-style PCs will want to keep that in mind.
Speaking of multimedia PCs, system builders will appreciate the cards' ability to support HDTV-out, making the card a good companion for the latest in HD-compatible displays.
Printer-friendly version
Email this CRN article