Printer-friendly version
Email this CRN article
The need for these new-generation data visualization tools is being driven by the explosion of "big data" -- the rapidly growing volumes and variety of data businesses are collecting today from not just traditional transactional systems but from other sources such as social networks like Twitter and Facebook.
Also fueling the demand for ADV are powerful, low-cost blade servers and software like Hadoop that make it easier to collect and process lots of data but don't by themselves make it easier for people to understand analytical results. Another factor is the growing use of in-memory database technology, such as SAP's HANA appliance and the Oracle Exalytics Machine, which also accelerate data processing.
And that demand is fueling opportunities for solution providers that work with business intelligence technologies.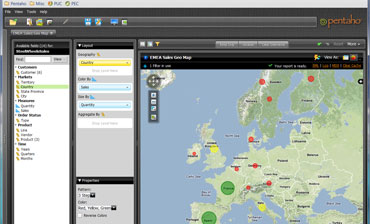 Pentaho's business analytics software offers geomapping representation capabilities, such as this European sales analysis map (click image for full-sized view).
Linalis, for example, develops business intelligence solutions that include business analytics and data visualization software from Pentaho. Customers include public sector organizations and non-governmental organizations that require business analytics with geo-mapping capabilities, and financial trading firms that need the ability to quickly identify, say, trends in equity prices, Linalis' Adams said.
Until recently few customers were aware of advanced data visualization and its benefits. But that's changing. "It's becoming more and more a part of the pre-sales discussion," Adams said, adding that data visualization is a factor in as much as 50 percent of Linalis' recent customer wins.
Forty percent of business analytics spending today is being driven by line-of-business managers, not IT management, said IBM's Potter. That means selling business analytics software requires vertical industry expertise to develop domain-specific analytical models, metrics and key performance indicators. "The deep industry expertise [channel partners] provide is really critical," Potter said.
"I really believe that the dropping cost of [computer] technology is going to revolutionize the way small and midsize businesses can take advantage of these [ADV] capabilities," added Scott Van Valkenburgh, senior director of alliances at business analytics leader SAS. And, many of those sales will be through the channel, he said.
Adaptive Solutions, a Kinnelon, N.J.-based developer of enterprise information management solutions, has found that selling IBM's Cognos Insight software helps it win new customers and expand the solution provider's footprint within existing customer businesses.
Case in point is one Adaptive Solutions customer that considered deploying an enterprise-wide BI system but then decided to initially limit it to the corporate headquarters, said Wayne Milano, managing partner at Adaptive Solutions. Adaptive, in a pilot project, implemented Cognos Insight on a standalone basis for employees outside of the corporate office to introduce them to business analytics. They can be integrated with a corporate BI system when it's built out, Milano said.
NEXT: A Who's Who In The ADV Market
Printer-friendly version
Email this CRN article