Printer-friendly version
Email this CRN article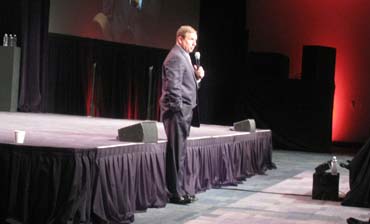 Mark Hurd
Oracle is all-in when it comes to big data with a full range of software and engineered systems that together allow customers who have no big data skills to take advantage of the technology. That's the message from Oracle executives during Monday morning keynotes at the Oracle OpenWorld conference, held this week in San Francisco.
Oracle President Mark Hurd started the Monday big data keynote with nearly the same message he presented to channel and technology partners on Sunday, noting that the 9 billion devices connected to the Internet will grow to 50 billion by 2020.
[Related: Oracle OpenWorld: Ellison Touts New In-Memory Database Technology]
Meanwhile, the average legacy application today is about 19 years old, built pre-Internet and pre-mobile phone, Hurd said. "[We] built this pre-everything we do today," he said.
On the average, business customers are seeing their data grow 40 percent per year, Hurd said. And, on the average, they're spending $7,500 to $9,000 per terabyte to manage that data. For a bank with 1,000 TBs of data, that means an annual cost of $700 million to handle that management.
Hurd said there has to be a better way to manage that data. "At the core, that's what we're focused on," he said. "The efficiency message. The innovation message."
Thomas Kurian, executive vice president of product development, said during his Monday keynote that big data is now a key driver of IT.
"You have to have a very capable infrastructure to drive the volume [of data], to store it and process it," Kurian said.
Oracle's current IT solutions can help nearly every customer manage big data, regardless of whether it is from structured or unstructured data, and regardless of whether customers have experience with such big data-centered applications as Hadoop, Kurian said.
Kurian was not kidding, said Wade Nicolas, CEO of Enkitec, an Irvine, Texas-based solution provider and Oracle partner.
"Oracle is absolutely viable as a big data partner," Nicolas said. "Up to 70 percent of a business' data is tied to Oracle. Oracle is around the Hadoop world. So there's absolutely a tie-in."
Even so, Nicolas said, the IT industry is still in the early adoption phase.
"But it's maturing rapidly," he said. "We have seen companies tracking everything users do: travel companies analyzing what pushes customers in certain ways, banks looking at fraud detection."
NEXT: Big Data Not Yet Mature, Needs Enterprise Vendor Help
Printer-friendly version
Email this CRN article