Coping With The Pentagon Disaster
Printer-friendly version
Email this CRN article
An eerie calm pervades the nation's capital and its surrounding areas in the aftermath of last week's horrifying terrorist attacks here and in New York.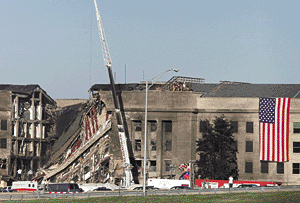 Many Washington-area solution providers said staff, customers or partners were at the Pentagon when the hijacked Boeing jet crashed into one wing of the spawling building.
Sharpshooters patrol the White House roof, while Humvees are stationed at intersections on K Street downtown. And at Freedom Plaza just off Pennsylvania Avenue, where Washington mayors take the oath of office, flags fly at half-mast.
Local solution providers,many of which have on-site staff at the Pentagon,expressed shock, anger and grief over last week's events. At press time authorities were still sifting through the rubble at the Pentagon crash site, where a hijacked jetliner slammed into a building once deemed impregnable.
On a typical workday, it's likely that at least a few GTSI employees would be at the Pentagon, said Dendy Young, chairman and CEO of the Chantilly, Va., solution provider. Though some GTSI staffers planned to make the 30-mile drive to the massive building last week, Young believes that none were there when the plane struck.
However, almost everyone in the greater Washington area knows someone who works at the Pentagon, and GTSI is no exception.
"We have extensive relationships throughout the Pentagon, and we are getting horror stories about people who are injured," Young said. Fortunately, most of GTSI's Pentagon contacts were on the side of the building not hit by the jet, he added.
At SAIC, Fairfax, Va., most employees,many of whom are regularly on-site at the Pentagon,have checked in with their managers, a company spokeswoman said. John Blitch, an executive in SAIC's advanced technology group, last week took a football-size robot equipped with lights and cameras to New York to assist in the search of the rubble that now blankets the site where the World Trade Center once stood, she added.
Dan Johnson, executive vice president of the public services business unit at KPMG Consulting, said the McLean, Va.-based company received a request from the Pentagon to help restore its IT infrastructure. About 20 percent of KPMG's clients are federal agencies and departments, he said, adding that all KPMG staff that were at the Pentagon and the World Trade Center on the day of the attacks are safe.
Still, KPMG hasn't been able to locate all of its clients at both sites, Johnson said. "These are not just our clients. These are our teammates," he said.
Two employees of Plano, Texas-based integrator EDS, a major military contractor, were injured in the Pentagon attack. One employee was hospitalized with burns, and the other suffered cuts and was treated and released from a local hospital, a company spokesperson said.
Cysive canceled a morale-boosting event for employees that was scheduled to be held last week in the Web integrator's eight offices, a spokesman for the Reston, Va.-based company said.
"We are encouraging employees to use that time to donate blood or [contribute to] other relief efforts," the spokesman said.
EYT, another Chantilly-based technology consulting firm, reported that its employees were safe but that "many have loved ones or friends who were affected by this horrible tragedy."
In conjunction with its vendor partners, GTSI plans to donate products and services to federal clients to help them "get back on their feet," a GTSI spokeswoman said.
"We have a complete line of deployable inventory available, with on-site network and engineering services," GTSI said in a statement issued after the attacks. "Priority fulfillment and delivery will be given to all emergency service orders from the Department of Defense, Department of Justice, FEMA [Federal Emergency Management Agency], National Guard, intelligence agencies and other government emergency service providers."
JOHN LONGWELL contributed to this story.
Printer-friendly version
Email this CRN article