Printer-friendly version
Email this CRN article
It was a week in which New York City mourned lost family and friends, prayed for missing co-workers and gave thanks for those who escaped the attack on the World Trade Center unharmed.
For solution providers, it was also a week of rebuilding, as they fought back the anger and confusion left in the wake of a disaster that virtually crippled their city, pushing forward to help customers salvage their livelihoods.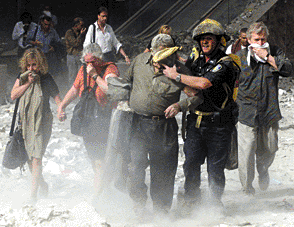 Rescue workers help victims of the terrorist attack shortly following the collapse of the Twin Towers last week. Thousands are feared dead.
Chris Congero, vice president of systems integrator Epoch Data, found Tuesday, Sept. 11, to be in some ways a day of relief. Half of his staff was scheduled for a 10 a.m. appointment to outline a document management solution for the law division of the Port Authority of New York and New Jersey on the 66th floor of the World Trade Center. Just before Epoch closed Monday night, the law division manager called to cancel the meeting. "Thank God none of us went to that appointment," Congero said.
Others weren't as lucky. Employees at Akamai Technologies, Compaq Computer, BEA Systems, Sun Microsystems, MRV Communications, Netegrity, eLogic, Accenture, Oracle and many other companies are mourning the deaths of their colleagues.
The full horror of the disaster hit Epoch staff members as they filed out of their office at the corner of Sixth Avenue and 30th Street. As they looked downtown, they saw the top floors of the World Trade Center towers,once one of New York's most familiar landmarks and a symbol of the city's economic strength and importance,engulfed in flames and smoke. "There it was, plain as day," Congero said Wednesday morning, his voice still laced with disbelief. "Nobody could believe what had happened."
Approximately 60 percent of Epoch's customers are located in lower Manhattan, including three that were housed in the World Trade Center. "The number of companies affected covers the whole spectrum,from entire offices to divisions being completely wiped out," said Congero.
Jerry Holcomb, a networking product manager at Total Computer Systems, had traveled to the city that day from his Melville, N.Y., office. He was so close to the World Trade Center towers that the reality of the attack was forced upon him.
At 8:40 a.m., Holcomb was walking toward 75 Wall Street, where he was integrating systems for Chase Manhattan and J.P. Morgan. He stopped for coffee on Maiden Lane, looked up and noticed the top of the north tower in flames and debris falling through the sky. Minutes later, a sea of people were running toward him. They were covered with blood and dust, screaming and crying.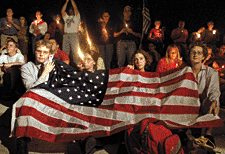 Washington residents hold a prayer vigil at the U.S. Capital to remember victims of the attack.
"I was about six blocks away, but you could feel the wind and the heat. It was coming right at you. It was so intense and so hot," Holcomb recalled Wednesday. "It was the most frightening thing I've ever seen in my life. There was the force of the blast, and then seconds later you heard a tremendous explosion. Glass was raining down. People were covered in soot."
Holcomb ran with the crowd toward the Brooklyn Bridge. A thick cloud of smoke and ash followed them. He made it safely across, got to a railroad station and took a midafternoon train home.
"The biggest impact of this hasn't sunk in yet," Holcomb said.
Solution providers couldn't begin to assess the long-term impact the attack will have on the lives of their friends, family and customers. But they all agree that business-recovery efforts must begin immediately. Solution providers said these efforts will include several steps: contacting clients, relocating them, analyzing their systems and data, and integrating replacement equipment.
Many solution providers with customers located below 14th Street in lower Manhattan initially found the first task difficult. The area remained off limits as emergency workers cleared the wreckage in search of bodies and survivors. Overloaded communication networks strained under massive call volume.
Agency.com Chairman and CEO Chan Suh finagled police clearance so he could enter the e-services firm's headquarters at 20 Exchange Place on Wednesday and begin restoring its data center, said Kevin Rowe, president of North America for Agency.com. Suh's recovery effort began even as executives scrambled to ensure the safety of the approximately 300 employees at its New York headquarters. Rowe, who was in a landing pattern at LaGuardia Airport when the attacks occurred and later arrived safely in Philadelphia, said the company is exploring contingency plans in the event it will not be able to return to its offices early next week.
Joel Pelinger, a channel veteran who now runs Solar Systems, a Manhattan-based office and systems relocation company, was busy on the second stage of the disaster-recovery plan: finding office space for about 480 employees who worked for 12 of his large accounts at the World Trade Center and escaped harm.
Pelinger partnered with about 23 movers, vendors, integrators and networking firms to help with relocation efforts. He is also working with Julien Studley, a real estate development firm, to secure Manhattan office space recently vacated by Barnes&Noble.com and CMGI. "After the towers collapsed, that's 12 million square feet less of office space in Manhattan. There's only 20 million square feet that's now vacant in the city," said Ken Witler, Studley's corporate managing director. "We'll be looking for space in the outer boroughs, Long Island, New Jersey and Westchester [County]."
On Thursday afternoon, Pelinger found himself in a situation that illustrated how difficult it will be to relocate businesses and conduct general business in Manhattan for the next several weeks. When he spoke to CRN via cell phone, Pelinger had been evacuated from his office at Lexington and 40th Street, following a bomb threat at Grand Central. The threat turned out to be a hoax, but that did nothing to alleviate the confusion caused by thousands of people swarming out of office buildings during the middle of the day.
"This is absolutely crazy," Pelinger said from the street. "It makes you wonder when this will end."
Marlene Brill, president of Digitask Consultants, an integrator on East 42nd Street that specializes in managing mission-critical enterprises, has no idea when business will regain a semblance of normalcy. But that road begins, she said, by analyzing her clients' data and systems to ensure Digitask's backup and recovery systems performed as intended. Digitask clients in lower Manhattan include several large banks and an insurance company. Each has its own off-site disaster-recovery centers with backup systems operating on grids in different parts of the city. Early Wednesday, Brill dispatched system and telecommunication managers to the sites. So far, the managers have reported no problems. "Some of those companies have up to $200 billion in assets. They have to be secure," Brill said. "Today, with SAN and clustering technology, you're intellectually prepared for these types of disasters," she added. "You're just not emotionally prepared."
Many solution providers said that they are willing to make special financial arrangements to help clients regain operations. Manufacturers and distributors are also bending rules on credit to help solution providers supply their customers.
Steve Israel, vice president of AMC, located on West 27th Street, spoke with several suppliers on Tuesday. Distributor Ingram Micro offered him unlimited credit toward products, IBM sent a special order of 650 systems to his Brooklyn warehouse and Hewlett-Packard offered to ship products to any of AMC's customers.
"The spirit of cooperation has taken hold," Israel said Wednesday. "All our vendors, all our bankers are pitching in and telling us not to worry. They're giving us whatever we need."
AMC plans to stock and stage inventory in its Brooklyn warehouse and deliver it throughout Manhattan, including lower Manhattan as portions of the area reopen. The solution provider also plans to send its trucks to pick up products from Tech Data's warehouse in Swedesboro, N.J., and Ingram Micro's warehouse in Harrisburg, Pa. "We'll have to scramble," Israel said. "We'll run trucks all night if we have to."
Israel had more than the cooperation of his partners to be thankful for last week. On Tuesday morning his two top technicians, Pat Imperato and Stan Martin, were at the World Trade Center for training with Sun when the first plane slammed into the tower. The engineers and the Sun staff made it out safely.
"Thank God they were safe," Israel said. "And thank God our friends at Sun were safe."
Additional reporting by Scott Campbell, Amy Rogers, Barbara Darrow, Marcia Savage, Elizabeth Montalbano, Joseph F. Kovar & Heather Clancy.
Printer-friendly version
Email this CRN article