Printer-friendly version
Email this CRN article
FOCUS: Network infrastructure and troubleshooting for SMBs
EXPECTED REVENUE: Approximately $25 million
QUOTE: "We don't speak 'geek' to the customer. If someone doesn't understand the industry jargon we're using, then we explain the concepts in a different way."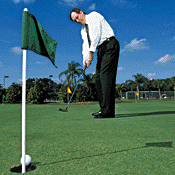 ITelligence's Tuers hits an ace by focusing on network installations and troubleshooting.
William Tuers, president of iTelligence Networks, is going back to basics. After closing the doors of a New York-based IT shop and relocating to Pompano Beach, Fla., Tuers considered starting an Internet company. But the rising tide of dying dot-coms forced him to rethink that idea and focus on the fundamentals: network installations and troubleshooting. That's why he created iTelligence in January 2001. "There are lots of people doing this kind of thing, but not too many are doing a good job of serving the customer," said Tuers. "I figure if someone's paying me good money, they certainly deserve my undivided attention." To date, iTelligence has about a dozen customers, Tuers said. His premise is simple: The market for fancy Web sites and complicated B2B engines may no longer be in vogue, but as long as there are LANs and WANs, networking experts will never go out of style.
Printer-friendly version
Email this CRN article