Printer-friendly version
Email this CRN article
Veritas Software this week plans to enhance its channel program by giving a new class of elite partners rebates of up to 3 percent on their sales.
The company also plans to require solution providers to pass a new certification regime before they can sell its enterprise products.
Currently, about 54 percent of its sales go through the channel, which includes OEM sales, said Don Foster, vice president of Veritas' Americas partner sales.
Gary Bloom, Veritas chairman and CEO, underscored the importance of the channel to Veritas' sales in an interview with CRN. "On an overall basis, the channel is robust for us, and includes the OEM sales and hardware vendors reselling our products," he said.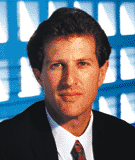 Veritas Chairman and CEO Gary Bloom: 'The channel is robust for us.'
Starting this week, solution providers must be certified under the Veritas Certified Professional Program to have access to and sell enterprise-class products, Foster said. Individuals, not companies, also can be certified under the program either as a high-availability professional or a data-protection professional. Other specializations Veritas plans to introduce later include disaster-recovery professional and SAN professional.
To become a Veritas elite partner, solution providers must have 20 percent of their sales force pass Veritas' sales specialist exams and commit to generating annual Veritas revenue of $3 million. In return, they get improved access to leads, evaluation software, pre-sales support, discounted training, and a 3 percent rebate, the company said.
Solution providers say the new certification and the chance to gain elite status gives them an opportunity to invest resources in closing big deals without worrying about having their proposals shopped around for the lowest bidder.
"I'm all for it," said Pat Edwards, vice president of sales at Alliance Technology Group, a Hanover, Md.-based solution provider. "In fact, I don't think Veritas is going far enough."
Dan Carson, vice president of marketing at Open Systems Solutions, a Yardley, Pa.-based storage specialist, said the rebate opportunity is especially attractive. "Increasing the amount of support to partners who are already selling more products to get the elite status is counterintuitive. But the 3 percent rebate makes it a great program."
Printer-friendly version
Email this CRN article