Printer-friendly version
Email this CRN article

Epson has jumped on the 802.11b (WiFi) bandwagon with its C80WN printer, extending the C80 printer line to the mobile and temporary office professional. Integrated wireless capability, however, is not included.
The product features an Epson C80 color inkjet printer and a separate EpsonNet 802.11b print server, which has its own power supply and connects via a parallel cable to the printer. To improve the product's appeal, Epson might consider providing power directly from the printer and using a USB interface for the print server.
Installation of the print server and printer was straightforward but involved several steps. Windows 9x/ME-based systems will require additional software for WiFi printing, which Epson includes on the installation CD.
The WiFi print server can be used in either ad-hoc or infrastructure wireless networks. Infrastructure networks are built around a central wireless access point, while ad-hoc-based wireless networks use a point-to-point style of networking.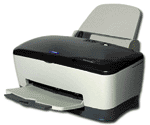 The Epson C80WN printer should have special appeal for mibile workers.
CRN Test Center engineers configured the Epson C80WN printing system in a network built around a Linksys wireless access point. Initially, the print server was configured for a DHCP connection, and Test Center engineers found that if the print server's IP address changes because of a DHCP reassignment, the printer can't be used by PCs on the network.
The Test Center recommends that the unit be set with a static IP address on the same subnet as the workstations but outside the range of addresses assigned by DHCP. Windows XP and Windows 2000 workstations that supported IP-based printing were used. The stations needed no extra software,other than a printer driver,to use the printer's WiFi capabilities.
Overall, the WiFi-Printer combo was easy to set up and use. Test Center engineers tested the printer with the SpenserLab Test Suite from Spenser and Associates. Test prints of color images showed some banding in the automatic mode, but the images were clean in photo-enhance mode. There were no noticeable performance differences between printing directly via a USB port or via a WiFi connection.
When looking for a WiFi printing solution, solution providers would be well served by the Epson C80WN, at least for now.
Printer-friendly version
Email this CRN article