Printer-friendly version
Email this CRN article

The SMB market will be a key focus of product development efforts for Microsoft during 2003, with the launch of a version of BizTalk 2002 leading the way, the company's top executives said.
As part of that focus, the software giant plans to launch and position its next-generation Small Business Server, dubbed SBS.Net, as one of five Windows.Net server offerings next year. Microsoft intends to ship a repackaged version of BizTalk Server for the SMB market and plans to position the next version of its Great Plains applications as the .Net business solutions suite for the SMB market, company executives said.
Microsoft also plans to ship a CRM server for the SMB market by year's end and knowledge worker products to harness the Office expertise of partners.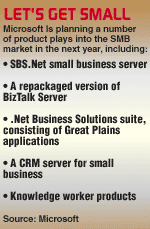 In an interview with CRN last week, Microsoft CEO Steve Ballmer said, for example, that the .Net versions of the Small Business Server, BizTalk and Business Solutions Suite will provide major opportunities for channel partners. "We needed core initiatives for solution providers to focus on," Ballmer said.
Solution providers applauded the aggressive SMB product push.
"Overall, this strikes me as [the SMB [segment finally getting some credibility inside Microsoft as a real market," said Michael Cocanower, president of ITSynergy, a solution provider in Phoenix.
The fourth-generation Small Business Server, which will succeed SBS 2000, is expected to ship in about a year, said Lindsay Sparks, vice president of worldwide small and midsize business at Microsoft. The product is being positioned as a key member of the Windows .Net operating-system server family and is due to ship several months after the first servers debut for larger corporations.
Microsoft is also working on packaging a version of BizTalk server for the SMB market. "The pricing has to be right," said Orlando Ayala, group vice president of worldwide sales, marketing and services at Microsoft. The application integration capabilities of BizTalk offer as much return on investment in the SMB space as in the enterprise space, he said. "There is a lot of opportunity for this."
Another effort under way is a suite of e-business servers including BizTalk, code-named Jupiter. That offering, as first reported by CRN, may end up bundling Content Management Server, BizTalk Server, Host Integration Server, Commerce Server and SharePoint Portal Server, several sources said.
Microsoft confirmed the existence of Jupiter but declined to discuss specifics.
Microsoft also plans to announce an affiliate program and an opportunity for its broad channel to earn 5 percent commissions for generating sales of Great Plains business solutions. Currently, only Great Plains' authorized solution providers are allowed to offer services for these applications.
Microsoft will aggressively leverage its 810,000-member partner base to drive the transition to solutions and its .Net platform, a key initiative for 2003, Ayala said. "The adoption to .Net has to happen in the channel. That's where the holy grail is," Ayala said. "Solution providers can be an important force in integrating the different pieces of .Net."
MS-CRM, the company's much-watched entry into the low-end CRM market, was code-complete earlier this month and is slated to ship to beta soon, said David Thacher, general manager of Microsoft's Business Applications Division. The product, billed as the company's first full .Net application, is slated to ship by the end of the year.
The Great Plains Business Solutions Group, meanwhile, is planning bundles of its applications with Windows .Net Server, said Don Nelson, vice president of U.S. channels for the group.
Printer-friendly version
Email this CRN article