KnowledgeBase.net has signed 10 partners
Printer-friendly version
Email this CRN article
Alex Kazerani, former CEO and founder of HostPro, and James Segil, former CEO of Virtualis, were once rivals. Now they've joined forces to develop knowledge management and self-help software.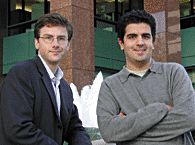 KnowledgeBase.net founders Jmaes Segil (l.) and Alex Kazerani offer self-help software.
In December, their fledgling company, KnowledgeBase.net, introduced a channel program to entice solution providers to sell licensed and ASP versions of its software. Under the initiative, partners can team up with KnowledgeBase.net on one of three levels: silver, gold or platinum.
"This is the right product at the right time for resellers," said CEO Kazerani, who now works alongside Segil, president and COO. "Companies are trying to save money and add customer support services at price levels that are appealing."
To sweeten the deal for solution providers, KnowledgeBase.net is offering them "very lucrative" commissions, Kazerani said. The company's partners make 20 percent on a license sale of $200,000 or more; they earn 15 percent on a sale of $200,000 or less.
The company has about 10 "very new" partners, one of which is Moonstone, Kazerani said. Moonstone specializes in integrated marketing solutions and discovered KnowledgeBase.net while looking to fill a knowledge management gap in its offering, said Larry Grosswald, CEO of the Miami-based solution provider.
"We wanted our customers' marketing department to be able to interact with sales in the most efficient, cost-effective way, which is what we found in KnowledgeBase.net," he said.
The idea for KnowledgeBase.net came to Kazerani while he was at HostPro, a hosting company recently bought by Interland. There, he wanted to appraise the quality of customer service, so he sat in on some calls between customers and sales representatives. Kazerani noticed that his reps were having trouble answering questions, and it occurred to him that building a centralized knowledge base for reps and customers would be helpful.
Hence KnowledgeBase.net, formed in April, now has 600 customers, including Canon, Skytel, Siemens, Wilson Equipment and WorldCom.
Printer-friendly version
Email this CRN article