Unveils interim eDirectory update, major Web-based upgrade slated for April
Printer-friendly version
Email this CRN article
Even as it faces overwhelming competition from Microsoft's Active Directory, Novell continues to push hard on the directory services front.
To that end, the company recently unveiled an interim update of eDirectory, version 8.6, and plans to release a major Web-based upgrade of the directory services backbone, code-named Falcon, in April 2002.
The Web and wireless management capabilities of Falcon will allow users to access network resources from a browser and a variety of handheld devices, enabling the directory to support Web services and computing devices other than the traditional PC. Also, Falcon will support Web services standards including Simple Object Access Protocol (SOAP) and Universal Description, Discovery and Integration (UDDI), which have gained support from most leading industry powerhouses, including Microsoft and IBM.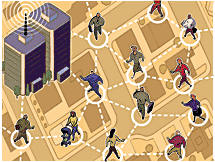 Novell plans to ship its Web-enabled version of NetWare, version 6, in mid-October.
The new eDirectory offers increased scalability and reliability, dynamic groups, persistent search and live continuous backup. The directory also received certification for integration with SAP's Web Application Server, a sign that Novell executives are aware of the need to integrate the company's products with leading enterprise applications, observers said.
Solution providers said the improved scalability and dynamic groups feature will be particularly useful. With the latter, groups can be created automatically according to directory attributes such as "department" or "title." This will enable LDAP developers to create and manage applications where users are granted access to network resources based on attributes.
"I'm always interested in the scalability and reliability. I put 1 million accounts in an eDirectory tree yesterday just to prove to someone that I could do it, and it worked great," said Paul Anderson, CEO of Novacoast, a solution provider in Santa Barbara, Calif. "I was on a server with only 512 Mbytes of RAM, and it was still fast in accessing a container with a million users in it. Nobody else has a directory that can scale like that."
Persistent search, another feature of version 8.6, enables queries to persistently track information in the directory on an ongoing basis. Live continuous backup allows all data to be backed up while the directory is in production.
EDirectory continues to have a larger installed base than Microsoft's Active Directory, but the latter is catching up fast, according to analysts.
This is not necessarily a drain on Novell and its partners, however, as Novell's other directory services products and new services organizations can serve to build bridges between the two directory infrastructures in the future. Novell recently won a 35-million-seat eDirectory contract with the French Tax Authority, a win that's expected to generate substantial revenue for its full line of directory services products, including dirXML and iChain.
"In the longer term, our advice to clients using eDirectory is to plan to have both eDirectory and Active Directory in-house. This is not necessarily a bad thing; it simply means that one directory should be able to manage the other," said Neil MacDonald, an analyst at Gartner Dataquest.
But one question remains for Novell's partner base: How much subcontracting work will trickle down to them? Solution providers selected for Novell's new named accounts-named partner channel model and PartnerNet 2002 program said they are optimistic.
"The new program addresses and balances the needs of VARs and distributors, as well as Novell's," said Carlos Paz-Soldan, vice president of technology and services at Tenet Computer Group, a Novell-named partner based in Toronto.
Printer-friendly version
Email this CRN article