This Week's Subject: Channel Satisfaction
Printer-friendly version
Email this CRN article
Solution providers are awarding higher marks to many key software vendors for their channel programs, according to CRN's Channel Satisfaction Survey.
For vendors such as IBM, Red Hat and Computer Associates International, the upward trend in satisfaction over the past six months has been particularly strong.
 

Solution providers are pretty keen on the channel programs for many major software vendors. IBM, CA, Red Hat, Oracle and Veritas have all registered sharply higher satisfaction rates in the most CRN survey of solution providers.

 
In December, for example, 59 percent of solution providers surveyed said they were satisfied with IBM's software channel programs. This is up from 53 percent in October and 45 percent in July. IBM not only has the highest satisfaction rating among the 11 major vendors about which CRN surveys, but also one of the lowest percentages of dissatisfied solution providers at 8 percent.
The results are similar for Red Hat, CA, Oracle and Veritas Software. Along with solid gains in satisfaction levels, Oracle has seen a particularly sharp decline in the percentage of solution providers that are dissatisfied with its channel programs, falling from 25 percent in July to 15 percent last month.
Other vendors such as Microsoft, Novell and Check Point are also seeing increases in the overall level of satisfaction with their channel programs, but the progress has been less steady and dramatic.
Vignette and BEA Systems are the sole exceptions among the vendors CRN surveys, with solution provider's overall satisfaction actually declining between July and December.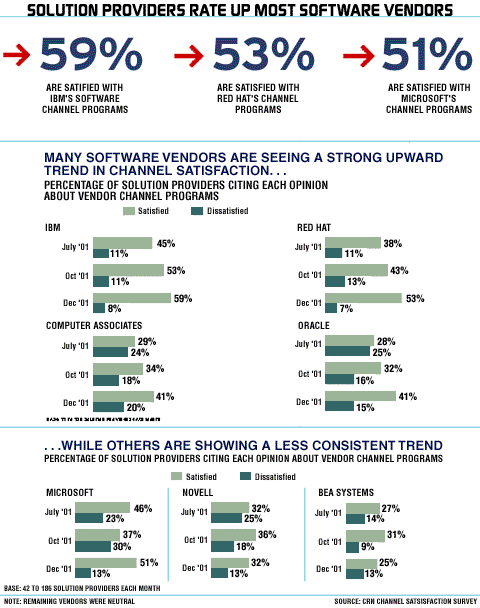 Printer-friendly version
Email this CRN article