Printer-friendly version
Email this CRN article
Masood Jabbar, executive vice president of global sales operations at Sun Microsystems, sheds light on the company's iForce partner conference and its Linux, StarOffice and SMB market initiatives in an interview with CRN Senior Editor Joseph F. Kovar and Washington Bureau Chief Amy Rogers.
CRN: With the merger deal between Hewlett-Packard and Compaq still pending, what issues do you expect Sun partners to raise at iForce?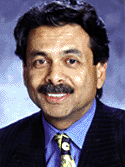 Masood Jabbar, executive vice president of global sales operations at Sun Microsystems.
JABBAR: I think you have read enough from [Sun Chairman and CEO Scott McNealy as to what he thinks of it. From our standpoint, we call it the low-hanging watermelons. As these two companies come together, there are significant questions about what the new platform looks like, what the road map looks like, etc. I read someplace that [HP and Compaq spent something like $150 million getting the proxy vote. All of that money could have gone into R and D and building a company, and they elected to spend that money trying to get the merger done.
CRN: Whether or not the merger goes through, will it have any effect on Sun's strategy?
JABBAR: I was actually rooting for the merger, myself. But in our industry, have you ever seen any merger of that size being successful? People underestimate the culture of Palo Alto [HP's headquarters and of Houston [Compaq's headquarters. A lot has to come together--there's more than just numbers. At the end of the day, it's people that matter. And the cultures of the two companies--and how they will come together or collide--that will matter. It's a tall order.
CRN: Has Sun won any business during the HP-Compaq merger battle?
JABBAR: The short answer to your question is, yes, we have won business from both HP and Compaq in the very recent past.
CRN: If HP and Compaq do merge, would Sun's professional services arm face a larger competitor?
JABBAR: You really have to understand our business model. It was never our business model to build a large professional services organization. Our model is to have a professional services arm that excels on our platform. And the professional services organization's job is to accelerate the revenue recognition for our partners on our platform. That's how we view our professional services arm. Our professional services arm specializes only on our platform. They do not do business process [management, they do not do systems integration and they don't do applications.
CRN: On the product side, Sun recently refreshed its server line. Will there be anything new in servers over the next six months or so?
JABBAR: The short answer to your question is yes. You will see us go down into the volume space and continue to go up in high-end servers in the data center. So stay tuned.
CRN: What's the plan in the volume space?
JABBAR: We just rolled out the V880 [two-way to eight-way workgroup server, which is one of our most successful products to come out recently. We're just thrilled with the market acceptance of the V880. You'll see us go further down in the four-processor and below [space in terms of changing the line and making it more conducive to different applications.
CRN: How about the x86 platform, specifically Linux?
JABBAR: Linux is not new to Sun. If you follow our Cobalt line, this is an appliance based on a Linux operating environment as well as an Intel instruction set. What we are seeing is things happening at the edge of the network. That segment of the market is evolving very rapidly. Content and applications are being driven closer and closer to the customer. We are also finding that multiple edges are emerging. Different functions sit at different edges of the network. We're trying to understand all of that, and Linux has a role in there. 'LinTel,' as we call it, has a role in there. [Sun Solaris has a role in there. We let the customer decide. Sun has announced that we will provide new products for edge computing. And Linux is a very viable offering there.
CRN: How do Sun's server offerings compare with those of IBM and, now, HP-Compaq? What's Sun's place in the market?
JABBAR: It is unquestionable: We are No. 1 in the market. All the data suggest that. In the Unix market, we continue to hold the No. 1 spot in this space. I think it's something like 18 quarters in a row.
CRN: That's specifically in the Unix space, right?
JABBAR: Yes. And our servers--compared with IBM's Regatta line or the HP line--have far more RAS [reliability, availability and stability built into them and better cost of ownership baked into them than those guys can offer. What is fundamentally great for us is that we are the only company that gives you a server from under $1,000 to over $10 million with the same set of binaries. You can run the same application, assuming it has the footprint, in a less-than-$1,000 server all the way up to a $10 million server. No other company can offer what Sun offers in that space.
CRN: Where does Sun stand in the storage market? With its recent partnership with Hitachi Data Systems, Sun has started to come out with more data-center types storage offerings. What can we look for from Sun in storage?
JABBAR: There's a method to our madness in terms of what we are doing in the storage space. It's clear that EMC had a very high attach rate to our data center servers, and we have taken very swift action to address that with our partnership with Hitachi. We have made a huge dent in our attach rate for high-end servers, and it's happened at the expense of EMC. What we are now spending a lot of our time and energy on is storage management. That's where our added value is. If you take a look at the companies that we have acquired, particularly HighGround, this is essentially about storage resource management. In virtualizing storage on the network, what we can do is help customers do storage consolidation, just like people talk about server consolidation. That's a very powerful story in terms of our product offering, both on the software side and the hardware side of storage.
CRN: Does Sun plan to take any steps to strengthen StarOffice's position in the market? Sun is bundling StarOffice with many of the Linux vendors.
JABBAR: Actually, it's interesting that you bring that up. This is certainly on our radar screen. What we have added with StarOffice 6.0 is a pretty impressive suite of products for the office. I don't know whether you realize this or not: StarOffice globally has about a 15 percent market share. Companies are now coming back and saying that the cost of Microsoft Office is getting to be untenable. So whether it's government organizations, large retail organizations, etc., we're talking to them about providing StarOffice. Certainly, the price is right.
CRN: Would Sun consider charging for StarOffice and, if so, wouldn't that diminish its appeal vs. Microsoft Office?
JABBAR: You have to understand that you can always download StarOffice for free. It is open-sourced. But if you want support for it, it is only the support mechanism that we charge for. It's not the StarOffice software itself.
CRN: Does Sun soon expect to unveil a pricing plan for StarOffice support and other components?
JABBAR: I don't have it in front of me, but I believe we have already done it or are in the process of doing it. I think it is next month when we will be rolling something out in that space. The decision has been made, and it will be announced in the next 30 to 45 days.
CRN: What are some things Sun is doing to be more attractive in the small-and midsize-enterprise space? Is it leading to an increased dependence on the channel or a recruitment of more channel partners?
JABBAR: We'll always be dependent on the channels and our partners. That is, once again, a fundamental thing that we do in this company--leverage our partners' skill sets and not try to replicate what our partners do. The SME market is, in just the U.S. alone, probably the single largest GDP on the planet. The cost structure is there to create a compelling data proposition for resellers to go after this space. We'll have to make it worth their while to go after uncharted waters, because it is dominated by either the [IBM AS/400-type of time-sharing model, or some of the older platforms are all ready to be changed. We are working to come up with a model to figure out how our channel partners can make money going after this market. When I talk to my [partners, I always ask them how they can make money doing this. And that's what they're trying to figure out for the [iForce conference and plan to present to me.
CRN: Would Sun target smaller solution providers to reach this market?
JABBAR: It's not necessarily smaller solution providers. It will probably be a mix of some of our current solution providers and some [partner verticals that are fairly large in terms of their coverage model. They have the knowledge, the depth and breadth, as well as the reach towards the SMEs. So it'll be a combination of vertical specialists plus the smaller solution providers playing in niches. But we have not finalized how we are going about doing this yet.
CRN: Could it include recruiting more solution provider partners?
JABBAR: It definitely will include adding more solution providers.
Printer-friendly version
Email this CRN article