Printer-friendly version
Email this CRN article
Someone forgot to tell D&H Distributing that we're in an economic lull.
The Harrisburg-based distributor saw its revenue climb to $700 million in 2001 from $560 million in 2000.
In the same time period, most competitors saw their revenue decline. According to the Raymond James IT supply chain survey, sales through distributors were down 18 percent last year.
D&H was also profitable in each quarter last year, but the privately held company would not detail earnings.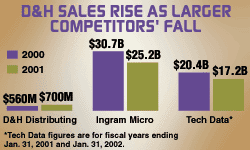 The distributor has thrived because it doesn't follow the same business model as competitors, said Dan Schwab, vice president of marketing at D&H. While other distributors looked to cut costs, D&H maintained the same strategy it had two years ago, said executives. For example, D&H kept dedicated account representatives for all solution providers when other distributors started to pool accounts, particularly SMB accounts, Schwab said. Its costs may be higher than competitors, but the returns have been worth it, he said.
"Companies want a distributor that is customer-centric, as opposed to other guys that, as they get larger, find reasons why things can't be returned or why policies can't be changed," said Lee Wicker, senior buyer at Journey Education Marketing, a Carrollton, Texas, solution provider. "D&H operates the other way. In the past, D&H might have been more centralized on just price points, but they stepped back and realized the way to get more customers was through service."
D&H also has shied away from acquisitions and the enterprise market, instead focusing on organic growth through a cadre of 40,000 SMB solution providers.
Printer-friendly version
Email this CRN article