Printer-friendly version
Email this CRN article
Last week, Veritas Software reported what Chairman and CEO Gary Bloom called a spectacular year for the company, thanks in part to a growing channel and the right mix of products. Bloom spoke to CRN Senior Editor Joseph F. Kovar about prospects for the company.
CRN: According to your financial report, Veritas reported a pro forma income of $64 million for its fourth quarter, but when making adjustments for acquisitions and stock-based compensation, the company reported a loss of $204 million. How is Veritas doing?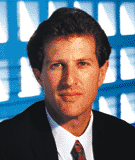 Veritas Chairman and CEO, Gary Bloom.
Bloom: What are the real results? The accounting rules have changed and are changing again in [the first quarter.
Just look at our business. We had revenue of $1.5 billion and a 24 percent growth [over fiscal 2000. We had a $439 million cash flow for the year and made two acquisitions. In December, we acquired The Kernel Group and its Bare Metal Recovery technology. Last [March, we acquired EntireNet, a Windows training and consulting firm.
CRN: How much of Veritas' business comes from the channel?
Bloom: On an overall basis, the channel is robust for us and includes the OEM sales and hardware vendors reselling our products. But look at both the high end and the low end of the market. About 50 percent of our sales come from the low end, especially Backup Exec. That application is sold primarily through the channel.
At the very high end, there is a larger propensity to go direct, particularly in the United States. But overseas, it's different. In places like Japan, we are 100 percent indirect.
CRN: What are you proudest about for fiscal 2001?
Bloom: Our 24 percent revenue growth during the down economic environment, and growth relative to other players. Twenty-four percent is nothing but spectacular. We passed [Sept. 11 with flying colors, with no glitches in customer support. We are entering a recovering economy in 2002 in a stronger position than ever.
CRN: What guidance are you giving for the future?
Bloom: For [the first quarter, analysts had us at revenue of $355 million. We bumped that up to between $365 million and $370 million. For the year, analysts are expecting $1.63 billion. We moved that number north just a little, and we expect revenue for 2002 to be between $1.63 billion and $1.7 billion. The increase is coming from both the low-end and high-end products.
During our fourth quarter, we had no weak spot. We were strong in every geography with every country with every product.
CRN: What do you see for the storage industry in 2002?
Bloom: We expect the storage management software market as a whole to do extremely well in 2002. . . . Many hardware vendors are trying to shift their strategies toward software as the business changes. The hardware side of the business will continue to be difficult as they continue to retrench by shifting their business toward software.
But the real barrier for them will be heterogeneous capabilities. They will continue to be challenged there, and that puts us in a stronger position.
CRN: Gartner Dataquest last May said Veritas is the No. 2 storage software vendor after EMC. Do you expect this to change in the future?
Bloom: EMC says it is software-independent. But when their hardware business crashed, so did their software business. On a pure software revenue basis, I believe we are the leader in the storage software market. And regardless of how you count revenue, we are by far the No. 1 independent.
Printer-friendly version
Email this CRN article