Printer-friendly version
Email this CRN article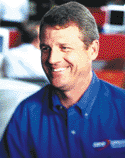 > LOCATION: Vernon Hills, Ill.
> AGE: 52
> YEARS WITH COMPANY: 1
> QUOTE: "We have a great balance sheet. No debt, and in excess of $300 million in cash. . . . We're talking with companies in Canada [regarding acquisition, but even in the United States, we want to reach some areas where we don't have a large presence. The problem is most people think their companies are worth [now what they were worth a year and a half ago."
In one of the toughest years ever in the solution provider channel, CDW Computer Centers grew its sales, earnings and brand-name recognition. In addition, the company started 2002 by being named again to Fortune's list of Best Places to Work. CDW maintained an 8 percent profit growth at the end of 2001.
Printer-friendly version
Email this CRN article