Vendor says partners will be key to gaining market share
Printer-friendly version
Email this CRN article
Cisco Systems this week plans to launch an initiative to capture market share in the SMB segment, and its solution provider partners will play a key role.

Despite the slowdown in the economy, Cisco expects spending on networking in the SMB space to increase over the long term, said Peter Alexander, vice president of marketing for Cisco's commercial group. Analysts expect compound annual growth of about 9 percent in SMB routing and switching spending, and some 33 percent compound annual growth in SMB spending on IP telephony, security and wireless initiatives, he said.
Cisco has market share of about 38 percent in the SMB networking space, but 71 percent of SMBs consider Cisco their primary networking vendor, according to Gartner. That presents an immediate opportunity for Cisco and its partners. Alexander said.
To address that opening, Cisco is increasing its partner training efforts, creating tools to help solution providers sell into specific verticals, and expanding its marketing efforts to SMBs. Cisco will spend 50 percent more on marketing to SMBs this year, Alexander said, but declined to give specific numbers.

SMBs rely on solution providers to deliver full solutions that address business needs. , Peter Alexander, Cisco
Because SMBs do not have large IT departments, they rely on solution providers to deliver full solutions that address business needs, he said.
Bob Murphy, president of Redrock Communications, an Irvine, Calif.-based solution provider, said Cisco is helping his company take a more consultative role with its customers. "Small- and medium-business customers now need real business cases to be convinced they need to leverage the Internet," Murphy said. "They want to know how this will make them more productive and see it show up on the bottom line."
Key to Cisco's SMB strategy is the Cisco Internet Business Roadmap. Launched in September 2001, CIBR is a Web-based assessment tool to help solution providers determine which solutions would give their customers a competitive advantage or increase productivity by leveraging the Internet.
As part of the new push, Cisco has added custom content to the assessment tool covering 11 different vertical markets. Cisco also is creating content around specific technology solutions for those markets. Security solutions content is available now; content on IP telephony and wireless solutions is in the works, Alexander said.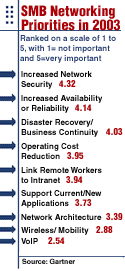 The 11 vertical markets include education, financial services, health care, hospitality, manufacturing, media and entertainment, professional services, public sector, retail, transportation and wholesale.
On the marketing side, Cisco is beefing up its solution provider training to help partners become consultative business advisers to their SMB clients, Alexander said. The company also is providing marketing kits for solution providers to use in the vertical markets, he said.
John Freres, president of Schaumburg, Ill.-based Cisco partner Meridian IT Solutions, said the new tools will help him sell into a growing market. "Right now, for us, the SMB market shows the most potential for growth," Freres said. CIBR "is a very useful tool to help us bring out issues with these customers."
Printer-friendly version
Email this CRN article