Printer-friendly version
Email this CRN article
Computer Resolutions, a longtime Unisys solution provider, has become an official distributor for the vendor.
Computer Resolutions, based here, will handle the full line of Unisys servers, from the two-way and four-way models OEMed from Dell Computer to its latest mainframe-class models, including the vendor's line of printers and check encoders.
The solution provider became a distributor just in time to take on the three new ClearPath mainframe-class servers Unisys unveiled last week.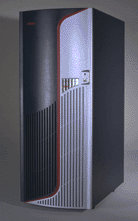 Computer Resolutions will distribute Unisys' new ClearPath server line.
Among new features for the mainframes is storage on demand, a model in which a server is shipped with 1 Tbyte of capacity that can be turned on in chunks of 150 Mbytes as needed, said Rod Zapp, director of ClearPath marketing at Unisys.
The company also introduced workload pricing, under which the per-MIPS (millions of instructions per second) charges related to a physical partition can be discounted by 50 percent when used for application development, he said.
Computer Resolutions was a Unisys distributor seven years ago, when Unisys sold desktop PCs and worked with a base of about 15,000 solution providers, said Computer Resolutions CEO Carl Palmieri.
Today the company has a list of about 200 potential Unisys solution providers to work with, including 25 to 50 likely to resell Unisys' mainframes, Palmieri said.
Computer Resolutions recently hired Pam Doran, formerly head of Unisys' channel business, to handle relations with its own solution providers, he said. Doran will need to juggle Computer Resolutions' distribution and reseller roles, as the company is one of Unisys' largest solution providers and plans to continue working directly with customers, Palmieri said.
Printer-friendly version
Email this CRN article