Puts down roots in managed security services
Printer-friendly version
Email this CRN article
European security solution provider Integralis is gaining traction here in the United States by focusing on managed security services supported by a network of established partnerships.
While the company is a traditional global reseller of 85 different security products, its focus is on creating solutions, said Dan Collins, president of Integralis U.S. And in a tough market and economy, there is particular interest in outsourced security solutions, he said.
"Partnerships are really key for us in growing our business here in the U.S.," Collins said. "And managed services is an area we see as important for the future."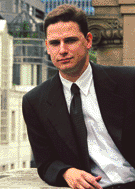 Integralis' Dan Collins stresses the importance of a worldwide infrastructure.
The 650-employee company, based here, is a subsidiary of Articon-Integralis AG. Integralis made its foray into the U.S. market 18 months ago with the acquisition of security systems integrator Atlantic Technology.
The company initially planned to continue its U.S. growth with similar acquisitions, but the bottom fell out the market, said Collins. More acquisitions are on the horizon but will have to wait until the economy picks up, he said.
Integralis offers managed security services through management centers in Germany, Great Britain and the United States, as well as data centers in London and Boston. The company offers a range of managed security services including Web content filtering, firewall and e-mail content monitoring, offered either individually or as part of a whole solution.
"If you want to be a serious player, you have to set up a worldwide infrastructure," Collins said. "And you have to be able to deliver the services 24x7."
While Integralis is focused on managing the firewalls and e-mail content in 29 countries around the world, it has found joint-selling opportunities with partner companies that manage other areas of the network.
One such partner is Vital Network Services, a privately held global data communications network services and support company based in nearby Naugatuck, Conn.
The partnership with Integralis grew from customer interest, said Todd Gregory, regional vice president of sales at Vital Network Services.
"We monitor customers' data and voice networks, for instance," Gregory said. "And we get a lot of requests asking, 'Can you do our firewall, too?' so we looked to Integralis for the security piece."
Vital Network Services has about 250 employees and 3,000 service technicians around the world, including in North America, South America, Europe and Asia. And customer opportunities are shared both ways between the companies, Gregory said.
The financial services, manufacturing and pharmaceutical industries are key verticals for Integralis now, but Collins predicts a broader horizontal sales reach once the economy picks up.
Integralis approaches large customers directly, but typically finds small and midsize companies through partners such as Vital Network Services and Verizon, he said.
"The small to [midsize businesses are a prime target for us," Collins said. "They need the same security as anyone else, but they can't afford the infrastructure necessary to support that."
Although times have been tough for everyone in the IT market, Integralis' focus on managed security services has helped the company ride out the storm, Collins said.
"IT security now is just like insurance for your home or your car," he said. "You can't do without it completely. You have to have at least something."
Printer-friendly version
Email this CRN article