Printer-friendly version
Email this CRN article
The senior vice president of Dell's small-business division discussed the direct computer seller's move to sell white-box PCs through solution providers in an interview with CRN Senior Editor Edward F. Moltzen and News Editor Steven Burke.
CRN: Why has Dell decided to enter the white-box channel, and how will the company work with solution providers?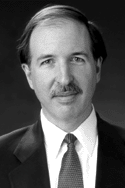 'What we want to do is target those solution providers that really act as the IT department for a small set of customers.'
MUEHLEMAN: We don't view this as a major strategic move for us. We are not really opening up to the entire reseller market or looking to do things in any kind of traditional [channel distribution sense. This is really an opportunity for us to provide to end users what we think is a good product with good economics. We know that in the small-business market,which is where this [product is targeted,if you can get the right economics for the end user, it works.
The way I look at it is to just look at the [PC market data. There is a large hunk of the small-business market that is being served by solution providers, and a lot of those folks are acquiring nonbranded equipment. And when we started looking at that and got some nonbranded equipment and started comparing it, we looked at the price points that the solution providers were paying. And it became clear that we could offer something that was economically better, at a better price point. We could offer what we think is better reliability,putting it together based on our current [branded offerings, with things like a tool-less chassis,and value. So we tested that with a bunch of focus groups and then followed up with some quantitative research. And the feedback we got from solution providers we talked to was very positive. It was, 'Yeah, we'd be very interested in this. We like the convenience factor.' We didn't tell them [the product was Dell. We told them it was just a major OEM coming in. A lot of them were not happy with what they were getting today. We saw that as an opportunity.
I don't anticipate us deviating from direct selling. There will be no inventory buildup anywhere. We are not planning on doing anything like price protection. We are going to build the systems to order, with the configuration they specify. I am going to deliver it directly to the solution provider, who is really acting as the IT department for these small businesses,making the purchase decisions, getting the hardware. They are the folks that are installing it. They are training the people on the software. They are selling some software. They are doing the soup-to-nuts [IT activities for small businesses. So we said there is a fit here with what we do and our economics and what they do. We don't anticipate this to be a significant revenue stream to start. We think it is going to be pretty modest. I think half a percent of Dell's revenue. I am going to keep it pretty focused so we can add value.
CRN: Does Dell aim to start small with its unbranded business and then look to build?
MUEHLEMAN: We feel there is a set of end users today that are not buying Dell equipment, and we think this is an opportunity to provide them Dell equipment. But it won't be under the Dell brand. We'll get in [to the market and see how the value proposition works. We'll see what kind of resistance we run into, and we'll see what kind of acceptance we run into. And that will really determine where the entire program goes. I am not going to get into a space where what we are selling can't add value. And value in my mind is, 'I need to be a lower price than what is out there, and I need to have a much better quality proposition than what is out there.'
CRN: How will the branding work? Will solution providers be able to put their own brands on the Dell boxes?
MUEHLEMAN: It is going to say 'Channel Partner Solution' on the box. It is not going to be Dell. If solution providers chooses to put their labels on it, I will not object to that.
CRN: Will solution providers be able to take off the Channel Partner Solution label?
MUEHLEMAN: Our label is going to be pretty unobtrusive. We are not going to have this label all over the place. It is going to be pretty small. It will not be on the central part of the box. Our label will probably be on the back of the box or some other unobtrusive place. . . . We haven't quite decided where it is going to be.
CRN: Would Dell be able to put solution providers' names on the box if they desire?
MUEHLEMAN: We are not going to be able to put their names on the box at this point. The solution provider can do it. I don't have any plans to put it on for them at this point.
CRN: What types of unbranded systems is Dell planning? What are they going to cost solution providers, and what is the profit margin?
MUEHLEMAN: We are going to start with a desktop. It will be a full range, from a Celeron up to a Pentium 4 processor. It will be Intel-based technology. Certainly, they'll be able to change the configurations around things like hard drives, video cards, sound cards, etc. That will all be custom-configured and sold direct to solution providers. That is the starting point. We will probably refresh the box as we go. It is a desktop play. The only piece we are going after is desktops.
CRN: Will solution providers be limited in terms of how they can configure the unbranded offering, compared with the regular Dell branded line?
MUEHLEMAN: They are not going to be limited. In fact, this [unbranded product is eligible for what we call CFI, or custom factory installation. That means if that you have specific software you want to load or a specific wireless card that you want incorporated, along with the drivers, we can do that.
CRN: At this time, has Dell signed up any solution providers to offer the unbranded PCs?
MUEHLEMAN: We haven't signed any up at this point. We do have some business with some resellers that are buying Dell today. And that is a small part of our business. We plan to launch this [product on Aug. 23.
CRN: Historically, the channel has had ill feelings about Dell. With Dell's unbranded PC initiative, do you see that dynamic changing at all?
MUEHLEMAN: When we tested this, we had a whole list of OEM names and asked, 'Would you have any objections to any of these?' And there are some negatives associated with Dell, but we also got a lot of positives,words like 'predictability' and 'don't overpromise.' We are pretty straightforward in what we offer and what the value proposition is. We don't do any kind of MDFs [market development funds. We put everything we can into the lowest price.
CRN: How many solution providers are you looking for? What's the distribution strategy?
MUEHLEMAN: I haven't set any kind of numbers goal because we will qualify the solution providers. We really want to target small businesses. We don't want to sell to the big solution providers who are expecting extensive discounts selling into large accounts. What we really want to do is target those solution providers that really act as the IT department for a small set of customers, who primarily are local. A lot of these solution providers have built up very strong relationships with their customer set. What we are trying to do is give those folks a choice in product and give them a good value proposition. And solution providers can come in and either sign up for the [unbranded PC program directly with us or through our Web site.
CRN: What's the basic profile of your target solution providers?
MUEHLEMAN: They are relatively small,probably less than $5 million in annual revenue and less than 20 employees. They are serving local customers and selling a range of branded and unbranded equipment, usually based on customer preference. When the customer doesn't have a preference, they very often will go with a white-box product.
[These solution providers are very interested. We are going to try to provide them a lot of convenience through customized Web pages, where they can order directly, configure their systems, save their configs, track their order history and keep track of all the interactions they have with Dell. We will provide financing. We provide some [financing today to small businesses, including 60-day same-as-cash product, revolving loans and leasing.
CRN: For solution providers, what will the profit margin be for Dell's unbranded products vs. the margin for its branded offerings?
MUEHLEMAN: I can't really answer that, and here's why. What we did was get [solution providers' actual quotes of 'Here is what I am buying today' and 'Here is what I am paying for this.' So what Dell can do is provide them with something at less cost. How they will bundle that, mark it up and wrap it up with services, I don't know. All I know is Dell can provide them with a box with a lower cost than the equivalent box they are buying today.
CRN: What if they are building the box?
MUEHLEMAN: Well, if they are building, I know I can beat anybody who is building with current technology. However, I think some folks are a bit more hooked on the build [side. It seems to me like the bigger play and bigger opportunity is with folks who are purchasing.
CRN: That is, purchasing Hewlett-Packard or IBM systems?
MUEHLEMAN: No, purchasing white boxes.
CRN: So you are targeting solution providers purchasing white boxes from major white-box distributors.
MUEHLEMAN: Or a small white-box distributor or aggregator. They come from a lot of different places.
CRN: How many of those guys are in the market today, and what amount of market share can Dell take from them?
MUEHLEMAN: I think there are a lot of them, and the market is very fragmented. They don't have the same purchasing scale and logistics scale that Dell has. What kind of share can we get? That's a good question. I don't know. Our share without playing in the small-business market is upward of 22 percent to 23 percent, according to [research firm IDC. And we are something like two times the size of the No. 2 player. But without a doubt, the biggest share [gain exists with white-box.
CRN: Will Dell be profitable on every one of these unbranded units?
MUEHLEMAN: We are profitable on every unit we sell. I refuse to do business where I can't be profitable. And I expect the same thing here. And I don't think the margins will deviate significantly for us. This needs to be a profitable business for us.
CRN: Will the unbranded PC business be a separate Dell division, or will it be part of your small-business group?
MUEHLEMAN: It is part of my small-business group, but it will be isolated because the policies and procedures are a little different. It is a different service offering. The VAR will be able to do more in terms of service on the box. So it is different but under the same umbrella.
CRN: Does Dell plan to do a multimillion-dollar marketing campaign for its unbranded PCs?
MUEHLEMAN: I don't know how much we are spending, but we are going to do ads, direct mail,the normal things we do. We are not Microsoft. We are not going to do massive splashes and big campaigns. You are not going to see TV. We'll do value-driven advertising .
CRN: What is Dell's message to the channel with its unbranded initiative? How important are solution providers to Dell?
MUEHLEMAN: I think solution providers provide a valuable service to end users, and I think we can provide them with tools that will help them. That is my message. Take a look and do the comparison. Put [competing boxes side by side, look at what we offer, take a look at the full range of services, take a look at the hardware, take a look at the quality, take a look at the serviceability, take a look at our delivery capabilities, take a look at our flexibility, take a look at our Web pages and make a choice. I don't want to overhype anything. I want to be modest in my growth expectations. I am not looking to make a big home run with this thing. I just think that, if they do a legitimate comparison, there are a number of these folks who are incredibly smart businesspeople who will say, 'This is a very good value proposition for me, and I am going to take a chance and try this.'
CRN: How profitable can solution providers be with Dell's unbranded offerings?
MUEHLEMAN: It comes back to the same answer as before. If they can buy it from us at a lower cost, it is up to them to figure out how they merchandise, mark up and bundle product for their customer. That is not the area I am going to get involved in. They run their businesses. They run it a lot better than I do. I don't know how they run their business. What I can give them is a tool at a better value. How they choose to bundle it and incorporate it into their solutions is really up to them.
Printer-friendly version
Email this CRN article