Printer-friendly version
Email this CRN article
IBM has become the second major vendor in as many months to bring multifunction printer (MFP) products into the channel, in a stepped-up play for the small and midmarket imaging segment.
The Printing Systems Division of the Armonk, N.Y.-based computer giant last month began shipping three new multifunction devices into distribution, on the heels of a similar announcement in April by Xerox, Rochester, N.Y.
For the IBM Print Systems Division, the space represents one battle in a multifront war to gain market share from rivals such as Hewlett-Packard and Lexmark, and, at the same time, add to the line card available to solution provider partners.
To buttress the offerings on its Infoprint models, IBM has rolled out MFP components that can add new functionality to existing printing solutions.
IBM channel surveys show that "print ... is hitting the radar screen big time," said David Williams, vice president, Americas, IBM Printing Systems. "There is a huge focus on cost-cutting or reducing infrastructure, as well as server consolidation. Customers are working on better financials and more structured costs."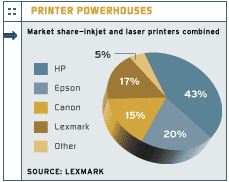 Williams said the benefits of the IBM multifunction technology include not only price, but also scalability. "Because it comes in components, you can add the multifunction device when you want to add capability," he said.
IBM is now shipping "MFP Option" devices that can be integrated with its Infoprint 1332, 1352 and 1372 workgroup printers to add functionality to the units. The M22 MFP Option can perform simplex scans of up to 15 impressions per minute for monochrome images and 14 impressions per minute for color, and is priced at $1,448. The M26 MFP Option provides for single-pass, duplex scans of up to 23 impressions per minute for monochrome images and up to 14 impressions a minute for color. It is priced at $1,984.
"I think for small customers, it has some potential to be a pretty big deal," said Pete Arnold, president of First Equipment Co., a Dallas-based solution provider and IBM printer partner. Arnold cautioned, however, that in larger accounts, business-process issues may come into play regardless of the technology.
"In theory, it's a good idea, [but] my experience has been [that] the people in a fairly large organization would not have all of their capability tied up in one machine. They are more interested in having a printer that's a good printer and performs that function."
Kyocera Mita, Fairfield, N.J., last month rolled out its own MFP products,its first home-grown devices. The KM-7530 MFP features 75-page-per-minute print capability with options for network scanning and printing from the desktop. The higher-end offering is priced at $24,995 including the printer and copying devices.
For its part, Xerox expanded its line of WorkCentre MFPs in April to include devices that combine copying and network printing with options for scanning, faxing and e-mail at an entry price of $899. The company will offer its F-2, M-15 and M-59 multifunction devices through general distribution later this year. Previously, Xerox only offered some printers through the distribution channel.
Printer-friendly version
Email this CRN article