Printer-friendly version
Email this CRN article
The promise of low- or no-cost long-distance calling via voice-over-IP has come to fruition with the Vonage Digital Voice service, which allows businesses to replace their traditional long-distance service provider with VoIP without sacrificing an ounce of productivity.
Vonage offers all the bells and whistles expected with normal telephone service, but the solution truly shines when it comes to how much money businesses can actually save.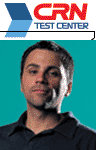 VINCENT A.
RANDAZZESE
Assistant Technical Editor
Depending on a customer's long-distance service provider, location, frequency and length of long-distance calls and price plan, long-distance bills could shoot well into thousands of dollars per month. By choosing any one of Vonage's price plans, a business' long-distance bill could be reduced to less than $100 per month, including taxes.
One of the features that really makes using this service a treat is its implementation of unified messaging across technologies. That feature allows voice-mail messages to be automatically delivered to e-mail boxes and e-mail messages to be read to the user over the phone. Imagine, for example, a user attending an all-day, off-site meeting, with access only to e-mail. The user is waiting for a big sales call, which depends on how fast the user can act. With this service, the user could receive an e-mail instantly notifying him or her of the call. Listening to the message is as simple as playing a .wav file attached to the e-mail message that contains the voice mail.
Vonage offers an impressive array of service features, including its toll-free-plus option for $4.99/month, which allows for 100 minutes of incoming calls and 3.9 cents per minute for any time over the 100 minutes.
The company offers a Web-based interface, allowing simplified remote access for users and administrators to retrieve messages and change options with supported Web browsers. The Web interface is straightforward and intuitive. Both the user and administrative GUI screens were easy to navigate and adhered to Microsoft Windows conventions.
New users are sent a preconfigured box with all required features installed. The adapter that connects an analog phone to the digital service contains custom preconfigured Vonage software and Cisco Systems firmware.
CRN Test Center engineers found the installation and configuration of the unit to be incredibly easy. Installation was such a snap that CRN engineers were suspicious, but the solution worked right off the bat, proving there was nothing to be suspicious about.
The installation process was as simple as taking a broadband connection, connecting it to the Cisco ATA 186 analog telephone adapter and using just about any router. The service worked instantly and required no preconfiguration of TCP/IP and no network protocols to be set up. Setup of all of the product's features was clearly explained on Vonage's Web site.
MAKING THE CALL: VONAGE RESIDENTIAL, SMALL-BUSINESS PLANS
RESIDENTIAL CALLING PLANS
COST
SMALL-BUSINESS CALLING PLANS
COST
> PREMIUM UNLIMITED PLAN: Unlimited local and long-distance calling within the United States and Canada.

> $39.99 per month
> SMALL-BUSINESS UNLIMITED PLAN: Unlimited local and long-diatance calling within the United States and Canada.

> $49.99 per month
> UNLIMITED LOCAL PLAN: Unlimited local and regional calling plus 500 minutes of long-distance calling throughout the United States and Canada.

> $25.99 per month
> SMALL-BUSINESS BASIC PLAN: 1,500 local and long-distance minutes to call anywhere in the United States and Canada.

> $39.99 per month
CRN Test Center engineers most appreciated the unit's network availability-number feature, which forwards calls automatically to another phone number, such as a cell phone number. In the case of a network failure, the solution provider can set the system up so that the customer would become aware of failed Internet connectivity when calls begin to come in on the secondary number.
However, CRN Test Center engineers believe Vonage could improve on its directory listings. A Google reverse-lookup is available from the directory listings, but it is not perfect. It would be nice to click on the number from the home page and go immediately to a listing of the person. Also, a link to it from the interface would be a nice touch.
The company also said it is working on a caller ID with name information.
Lastly, the installation documentation, while providing basic and concise assistance, is rather light. Vonage did not provide a manual of any sort. Even though setup was seamless, a separate manual explaining the features as well as the functionality would have made things even easier.
CHANNEL PROGRAM SNAPSHOTS
> VONAGE DIGITAL VOICE
PRICE: See chart above
DISTRIBUTORS: Direct from vendor
TECH RATING:


CHANNEL RATING:

CHANNEL OVERVIEW: Edison, N.J.-based Vonage sells mostly via retail or direct to end users, but solution providers can join its affiliate program. Affiliates can sell Vonage Digital Voice as a white-box solution or branded under the Vonage name, and support and margins vary. Vonage's marketing teams help partners develop sales materials and provide general assistance. On-site sales and technical training are available, and Vonage provides co-op funds for co-branded products.
Note: Vendors can earn up to five stars for technical merit and five for their channel program. If the average of these two scores is four stars or greater, the product earns CRN Test Center Recommended status.
Printer-friendly version
Email this CRN article