Printer-friendly version
Email this CRN article
Voice-over-IP installations require thorough preliminary assessment and planning, so solution providers should consider thoroughly testing IP infrastructures before deploying VoIP solutions. Relief from those testing chores can be found in Vivinet Assessor from NetIQ.
Well known for its Chariot line of network-testing products, NetIQ, San Jose, Calif., has integrated its experience and expertise into Vivinet Assessor, which promises to thoroughly test IP networks for compatibility with VoIP equipment.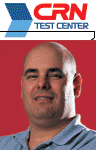 FRANK J. OHLHORST
Senior Technical Editor
Solution providers servicing VoIP-based accounts often encounter unexpected results with both voice quality and reliability. The challenge becomes even greater when customers rightfully expect that VoIP-based technology to provide quality on par with or greater than traditional PBX-based systems. After all, the dial tone has been around for about 100 years, and businesses have come to rely on telephones more than any other technology. But packet networks are significantly different from circuit-based networks, such as those used by telephone companies and traditional PBX-based systems, often presenting unique problems to solution providers.
To review the product's feature set, CRN Test Center engineers installed Vivinet Assessor v2.1 on a Toshiba Satellite Pro system running Microsoft Windows XP Professional, which was attached to a Windows 2000 network comprised of various desktop PCs, Ethernet switches and hubs.
Vivinet Assessor relies on two basic components: a management/testing console and remote endpoints. Solution providers must select a system on the network to run the Vivinet Assessor Console, and the system must be configured for either Windows XP or 2000. Minimum hardware requirements are a 1GHz processor, 256 Mbytes of RAM and 150 Mbytes of disk space. The system also must have Microsoft Word and Excel installed for report generation.
To generate traffic on the network during testing, solution providers must install Chariot endpoints,software components installed at various points on the network that are responsible for creating the traffic needed to stress the network for testing. Chariot endpoints are available for the various flavors of Microsoft Windows, Linux and Sun Solaris.
The installation process is straightforward and wizard-driven, but before the product can be used, registration information and a registration key are required. The registration process also applies to demo versions, which operate for only seven days. Test Center engineers found the registration process and generation of a registration key somewhat intrusive. Solution providers who want to remove the software and install it on another system will have to go through an equally annoying de-registration and re-registration process.
But once it is installed and registered, solution providers will find that the software is intuitive and attractive. The console's menu is laid out in a clear fashion, making it easy to get started. Inventory and discovery options can be used to quickly build a layout of the network infrastructure. The software will query all devices based upon the IP address information provided, which helps to eliminate much of the guesswork associated with initial network assessments.

NETIQ VIVINET ASSESSOR
Test Center Recommended
The product offers several options for reviewing network capabilities. After setting up the Chariot endpoints,while sounds like a complex process, the software makes it quite easy,solution providers will want to start with the Assess Utilization selection, which allows the definition of subnets to be monitored. Information such as bandwidth trending and packet utilization is then readily reported, allowing creation of a network performance baseline.
The next step is driven by modeling bandwidth, which allows solution providers to design "what if" scenarios for testing the network. Once those tasks are accomplished, solution providers can proceed with testing for VoIP quality.
The Assess VoIP Quality module uses a five-step process: discovering endpoints, designing the assessment, scheduling the tests, verifying the assessment configuration and launching the assessment.
The process creates all of the elements needed to accurately assess VoIP performance and quality. Latency, jitter and reliability are thoroughly gauged, and all data is stored for reporting.
The product's reporting capabilities are professional and intuitive. Reports clearly show important elements of a network assessment, while helping solution providers plan for a VoIP deployment.
All things considered, Vivinet Assessor 2.1 from NetIQ offers an ideal collection of tools for solution providers looking to build successful VoIP solutions.
CHANNEL PROGRAM SNAPSHOTS
> NETIQ VIVINET ASSESSOR
PRICE: $12,000
DISTRIBUTORS: Direct from vendor
TECH RATING:


CHANNEL RATING:

CHANNEL OVERVIEW: San Jose, Calif.-based NetIQ provides varying levels of training, sales and marketing assistance through its three-tier channel program, based on a partner's expertise and sales volume. The vendor's field-based channel account managers and direct-sales representatives work on sales and marketing opportunities, and participate in joint sales. Sales and technical training are offered online and throughout the United States, and technical and marketing resources are available online. --Michael Gros
Note: Vendors can earn up to five stars for technical merit and five for their channel program. If the average of these two scores is four stars or greater, the product earns CRN Test Center Recommended status.
Printer-friendly version
Email this CRN article