Printer-friendly version
Email this CRN article
Dan Vertrees, vice president of North America partner sales at Compaq Computer, discussed the computer giant's 2002 channel programs in an interview with CRN Industry Editor Craig Zarley.
CRN: What are the goals of Compaq's 2002 channel programs?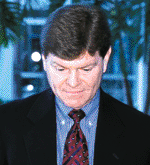 Dan Vertrees
VERTREES: We want to put clarity around strategy and establish building blocks for PEP [Partnership Engagement Principles. We want simplification in our approach to partners, recognizing their entire value. Sometimes we see them only on the surface, what is in the front office, but we don't understand the back office. And we want to focus on solution-led sales as opposed to hardware.
Our key message is radical simplification of our partner relationships with business partner programs with competency-based classification. We want to generate more profitable business opportunities for the channel. Where we're strong, leverage us; where they're strong, leverage them. We recognize that we can be better business partners.
CRN: What specifically is Compaq doing in 2002 that's new?
VERTREES: We are going to simplify partner program architecture with capability-based competency groups. We will recognize the aggregate value of partners and pay benefits based on each competency. We'll recognize five areas of specialization: reselling, solution development, service provision (xSP), consulting and systems integration, and services delivery. We are recognizing all of partners' capabilities. What we're doing is trying to take a holistic view of partners. Partners are going to have access to incremental benefits that align with their businesses. We will maintain a list of partners and their specialties and know who our go-to partners are and recognize where they make investments.
CRN: Compaq cut market development funds (MDF) for the channel during the fourth quarter. Do you intend to increase MDF to the channel in 2002 and, if so, by how much?
VERTREES: Last quarter, we all had spirited discussions about MDF. [This year we want to offer solution and market accelerators in addition to being a Silver, Gold or Platinum partner. We will take the 2001 base and add solution accelerators and market accelerators. And the sum is richer than ever before. The MDF solution accelerator includes a platform accelerator. It acknowledges building horizontal and vertical solution on HPTC AlphaServer and high-end ProLiant server platforms. Also, there's an operating-system solution accelerator for Windows 2000 NT, Linux, VMS and Tru64. There's also an enterprise storage accelerator that compensates partners for investments required to maintain expertise in storage solutions.
CRN: With these accelerators, how much more MDF will Compaq pay this year vs. what it paid last year?
VERTREES: To give percentages are tough. With the storage accelerator, for example, [MDF for selling storage will be about two times what it was in 2001.
CRN: What about the market accelerators?
VERTREES: The market accelerators will reward partners with additional MDF in key market segment. Diversity partners (minority-owned solution providers), certified education partners and federal alliance program partners are all eligible for [market accelerators.
CRN: Why did you choose those three markets?
VERTREES: We have seen that these are untapped resources that drive incremental business for us. These folks have passion and commitment. The bottom line is that these markets are stable and recession-proof, and end users love [these solution providers.
Printer-friendly version
Email this CRN article