Solution providers see expanded line cards, service offerings
Printer-friendly version
Email this CRN article
Distributors are pouring more resources and services into high-end networking offerings, and the winners are solution providers, which now have more choices for building top-notch networking solutions.
Demand is increasing for specialized networking solutions, such as wireless networks, SAN/NAS, VoIP, telephony and network security, said industry observers. Distributors hope to meet that demand by increasing their manufacturer line cards, expanding product lines, shoring up services offerings and, in some cases, expanding geographically.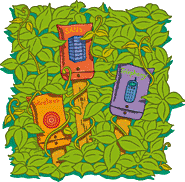 For some solution providers, using distributors to source networking products, services is best way to build clients' solutions.
Some solution providers said one thing is clear: Using distributors to source networking products and services is the best way to build solutions.
"Distribution services are a tremendous value-add," said Norbert Sluzewski, president of New York-based solution provider and consultant DataVox Technologies.
Ten-year-old DataVox designs infrastructures and builds application systems to create network management and security solutions. Sluzewski sources 90 percent of his company's products and services from three distributors: Ingram Micro, Tech Data and Westcon Group. But that wasn't always the case.
DataVox tried in the past to source some networking purchases direct from manufacturers, but it created more hurdles and didn't meet customers' needs, said Sluzewski. Manufacturers want large orders; they often make it difficult to finance orders; and deliveries can sometimes take weeks, he added.
Over time, Sluzewski has watched as distributors have enhanced the products and services provided to networking solution providers. "Distributors are behaving differently than they did four or five years ago," he said. "I think they're wising up that there is no business in box-pushing."
While the core strengths of broadline distributors such as Ingram Micro and Tech Data are logistics, extensive inventories, availability and price, the companies have also been aggressively bolstering the value-add side of high-end networking offerings.
"You have to win on value," said Gino Marco, director of the Technical Products Division at Ingram Micro. The distributor has brought new technologies and vendors on board, enhanced training programs and financial services, and even built an on-site solution center where solution providers can see and demo new technologies.
Tech Data recently created a specialized business unit specifically dedicated to high-end networking, storage and telephony, and restructured its sales team so personnel can specialize in key areas such as high-end networking. The distributor also created a new networking services organization and now has 11 training centers with 99 affiliates nationwide.
"We're pretty focused on adding value to the sale," said Roy Appelbaum, vice president and general manager of product marketing, networking and storage at Tech Data.
In the networking space, a niche distributor such as Westcon Group believes it has expertise that broadliners just don't have, and Sluzewski agrees. "When you purchase a product from Westcon, you get a lot more than just a product," he said, adding that the distributor's networking knowledge is a distinct advantage for winning deals and meeting customers' needs.
"When our butts are on the line, we will often turn to Westcon," he said.
Westcon Group,which encompasses Westcon, Comstor and Voda One,concentrates specifically on networking technology products and key partners Cisco Systems, Nortel Networks and Avaya.
The distributor provides connectivity solutions that include products and services for convergence, remote access, VPNs, videoconferencing, wireless connectivity and network security. Westcon's engineers and technicians will teach solution providers about products and technologies, assist with network design and recommend multivendor networking solutions.
Westcon recently signed a letter of intent to acquire Netherlands-based distributor Landis Group and expand its geographic footprint. "We now have the ability to offer our customers the opportunity to pursue large global opportunities," said Alan Marc Smith, Westcon Group CEO.
Printer-friendly version
Email this CRN article