Printer-friendly version
Email this CRN article

With the purse strings tightening on corporate spending, solution providers are now looking at the SOHO market to make a buck.
One solution they might want to take a look at: AOpen's EasyTalk 48 Small Business Telephone System.
This particular solution extends beyond the next generation of phone systems without the need for expensive PBX retrofitting.
The EasyTalk ships with four lines, eight local extensions and eight remote extensions. The small-footprint device (8.4 x 8 x 2 inches) offers an array of features usually found in larger, more expensive phone systems.
EasyTalk integrates seamlessly with existing phones and analog devices, so there is no need to go out and purchase new equipment.
"With EasyTalk, you can use standard phones rather than the proprietary ones required with most other systems," said James Pellerin, general manager of Bits Technical, a Baton Rouge, La.-based solution provider.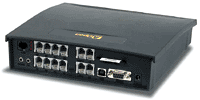 EasyTalk integrates seamlessly with existing phones and analog devices.
CRN Test Center engineers found the EasyTalk's auto attendant feature extremely valuable. For someone out of the office, it can forward calls to an alternate number or pager using the remote extension.
"You can receive calls anywhere in the world without your client knowing you're away from the home or office," said Pellerin. "This will cut down on playing phone tag and dialing costs, especially [when dealing with long-distance calls."
Another feature, called built-in mode scheduling, allows the system to handle calls based on day and time. Missing important calls after office hours should no longer be a problem. Having EasyTalk is like hiring a receptionist, said CRN Test Center engineers. But EasyTalk can't handle two calls on the same extension, so it would be a good idea to disable call waiting.
Also, EasyTalk software includes a diagnostic utility that engineers used to test the phone's integrity. The utility can be accessed by double-clicking the EasyTalk icon and clicking "monitor" in the control center.
For tests, the EasyTalk 48 was connected to an Advanced Micro Devices-based system running Windows 2000. The device can be connected via serial port or USB, but CRN Test Center engineers used the COM1 port. With the bundled software, configuration was a snap, and EasyTalk was up and running in about a half-hour.
Printer-friendly version
Email this CRN article