With loosened rules, Ingram Micro opens up shop in China
Printer-friendly version
Email this CRN article
U.S.-based distributors are positioning themselves now to take advantage of an untapped IT market in China, which could yield billions of dollars of revenue down the road.
Before China joined the World Trade Organization (WTO) last year, foreign IT distributors were not allowed to directly run distribution operations in the country. But under recent WTO commitments, the country earlier this year allowed foreign distributors to set up joint ventures with China-based companies and to assume a majority share by 2003. In 2004, there will be no limitations.
So what's at stake for U.S. distributors in China? The chance to be among the first foreign distributors vying for a share of China's $22.1 billion IT market, the fastest-expanding segment of the Asia-Pacific market, according to IDC. China is expected to be Asia-Pacific's largest IT market by the end of this year and will account for nearly 40 percent of the Asia-Pacific market by 2005, IDC said.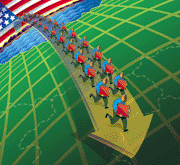 Roughly 15 percent to 20 percent of that revenue flows through distribution, Ingram Micro executives said. Ingram Micro joined forces with a China-based sub-distributor in a partnership that includes many shared resources, company executives said.
"China is the only place in the world where you see an IT market for the next few years [with consistently double-digit growth," said Hans Koppen, president of Ingram Micro Asia-Pacific. "I would consider [the partnership a competitive advantage and a barrier to entry for others because, as you know, even in the United States and Europe, it takes a long time to build up a consistently reliable and profitable distribution business."
China's largest distributor is Digital China, an $8.6 billion spin-off of the country's largest PC manufacturer Legend Holdings, according to IDC.
Ingram Micro believes it shares the top slot with Digital China but was unable to break out specific revenue figures for the region. Ingram Micro's China marketing director Jeffery Zhang said the company's sales in China made up about half of its Asia-Pacific sales, excluding Japan. In addition, those sales accounted for 3 percent of the company's worldwide total, according to published reports.
Networking distributor Westcon Group used to have a presence in Hong Kong and China, but the company pulled out two years ago. "[That market is very commodity-based, which is obviously contrary to our value-add model," said Alan Marc Smith, CEO at Westcon Group. The "risk of doing business" in the country is also high because authorities do not always recognize the rights of U.S.-based businesses, he said. However, he believes changes that happen because of China's WTO participation will be favorable.
Solution providers that do business overseas say new locations worldwide make it easier for them to leverage existing distribution relationships to meet their customers' needs in other countries.
"If the idea is to place distributors strategically within mainstream international districts to support the efforts of systems providers and resellers that sell into and support the end user communities there, then we would most likely support the movement and would view it very beneficial," said Kristie Pfieffer, CEO at Fastbreak Information Technologies, Bellevue, Wash.
The solution provider does a significant amount of government business overseas, and nearly all of it is purchased through Ingram Micro and Tech Data, she said.
Some distributors are taking a wait-and-see approach to engaging China.
In December, Synnex Information Technologies President Bob Huang said the company was planning a distribution presence in China. Last week, however, Synnex declined to comment about Huang's statement.
Tech Data currently has no presence in the Asia-Pacific market, and global expansion is not a priority. "Our primary focus is on the regions and countries where we currently do business," said Nestor Cano, president of worldwide operations at Tech Data.
Printer-friendly version
Email this CRN article