Printer-friendly version
Email this CRN article
Flat-panel display prices are on the rise because of a shortage of LCD display screens from manufacturers, according to distributors.
Prices have risen as much as 16 percent for some SKUs at D&H Distributing, and executives there expect an additional 10 percent increase by the third quarter, said Michael Schwab, vice president of purchasing at the Harrisburg, Pa.-based distributor.
The shortage was caused by increased uses for LCD displays in multiple product categories, Schwab said. "It's the same technology for notebooks, cell phones and PDAs. Global demand for this technology is high," he said.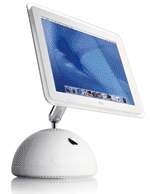 imac prices rose last month due to a shortage of plasma display screens.
NEC-Mitsubishi Electronics Display of America and D&H recently told some customers that prices on flat-panel displays will increase by about $50 per unit beginning April 15, said Ramone Ortiz, purchasing manager at Virginia Beach, Va.-based solution provider KIS Business Computers.
KIS expects price increases by other manufacturers including Compaq Computer, Samsung and ViewSonic, as well as distribution sources including Ingram Micro, Tech Data and Synnex Information Technologies, said Ortiz.
Nevertheless, Ortiz believes the rising prices will have little impact on display sales. "When a customer wants an LCD, they want an LCD," said Ortiz. "The more high-end customers understand they're going to have to pay a little bit more."
Manufacturers have pumped up production of displays, but there's always a lag, Schwab said.
"We have seen recent increases from some manufacturers in the 15-inch LCD panels," said Sam Taylor, president of distributor Electrograph, Hauppauge, N.Y. He added that prices on larger LCDs have remained steady or dropped slightly over the last quarter.
Distributors also don't believe the price increases will have a dramatic effect on sales.
"In the past several months, prices for LCD monitors have increased slightly. Our demand, however, remains strong," said Kim Walkey, director of peripherals at Ingram Micro.
"We view this [supply shortage as a short-term situation and do not expect demand to drop significantly," Walkey said. "LCD supply will increase in the second half of the year."
LCD sales at Ingram Micro increased from Q4 2001 to Q1 2002, and the distributor expects little impact overall from the price increases, said Walkey.
Printer-friendly version
Email this CRN article