Yahoo, HP Jump into the fray with new small-business offerings
Printer-friendly version
Email this CRN article
The battle for solution providers' Web hosting business is heating up as portal powerhouse Yahoo and computer giant Hewlett-Packard this week bring new small-business offerings to the table.
Solution providers said the Yahoo offering, which surprised some competitors and is backed by a full-fledged channel push, has the potential to reshape the Web hosting landscape. Many solution providers, however, said they already have established partnerships with other Web hosting providers that they are reluctant to replace.
"I work with three different hosting providers and have more than I can handle right now," said Joe Ponepinto, president of design firm Communications By Design, Long Beach, Calif. "So unless they're offering something fantastic, it's not going to make a difference to me."

Yahoo's Rich Riley: Channel program to be rolled out by first half of next year.
Yahoo's offering centers on three Web hosting solutions for small businesses,those with 100 employees or less,starting with a Business Starter service that gets small businesses on-line for a $15 setup fee and a recurring monthly fee of $11.95. Partners will also have the ability to sell several other Yahoo services, such as instant messaging.
The Yahoo Business Standard and Business Professional services offer more business e-mail accounts, storage and priority support. Both services include a $25 setup fee. In addition, the services have recurring monthly fees of $19.95 for Business Standard and $39.95 for Business Professional.
Yahoo is developing a full channel strategy and expects to roll out the program by the first half of next year, said Rich Riley, vice president and general manager of Yahoo Small Business. The company is currently working on a reseller compensation plan. "This is a great opportunity for [solution providers to sell our services, work with us and leverage our brand," Riley said. "We're going after a variety of partners," and the program initially will target Web design shops, he said.
Riley stressed that Yahoo's SMB offering represents a major commitment. "We are very serious about stepping into" the SMB Web hosting space, he said.
Competitors are bracing for the Yahoo offering. "I've always felt Yahoo produced a quality product, and with their brand and ability to drive traffic, they're sure to make a killing," said Demian Sellfors, CTO at Web hosting provider MediaTemple, Los Angeles. "I'm sure we're going to feel the effects."
Others argue that Yahoo's size will make it difficult for partners to receive support. "I want to work with a hosting provider that I know is going to pick up the phone," said Kurt Allen Weiss, owner of Web design and consulting firm KW Productions, Clifton, N.J. "Yahoo has its hands in so many areas as it is."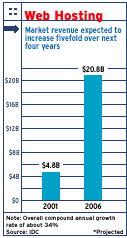 Tom Shankle, area vice president of operations at Web hosting provider Interland, said his company's sharp focus and tight partnerships with solution providers will make it difficult for Yahoo. "They'll be a strong competitor with their brand recognition, but I wouldn't mind matching up our offering to theirs," he said. "We've been doing this for more than three years, and we're focused only on hosting."
While e-mail is just a piece of Yahoo's hosting offering, HP's new small-business offering focuses exclusively on a hosted Microsoft Exchange service called Exchange on Demand.
The HP service is based on Apptix's application provisioning and management system and its hosted exchange offering. Unlike HP's customized outsourced Exchange offering for the enterprise, Exchange on Demand is a simplified, standardized version for the SMB market encompassing e-mail, contacts, calendars and shared folders with add-ons such as wireless access, storage and desktop services.
HP and Microsoft are recruiting service providers to sell and use the solution, with Apptix providing sales and marketing support to partners. "We have a lot of the groundwork under our belt now to get this solution up and running with Apptix's support," said Barbara Branaman, director of hosting services at XO Communications, Reston, Va. "Outsourced Exchange as a value proposition for small business is fairly new, and this combination of HP, Microsoft and Apptix validates the need for such a solution." To support partners, Apptix has developed a "revenue assurance" services team that acts as the virtual sales and marketing arm of the partner.
"We realized that in addition to the technical services we provide to [service providers, they needed help with their go-to-market efforts, so we built out a sales and marketing toolkit with Microsoft," said Alex Hawkinson, CEO of Apptix, Sterling, Va.
Printer-friendly version
Email this CRN article