Printer-friendly version
Email this CRN article
Two new collaboration tools are providing innovative ways for employees in remote locations to work together. The first, a new adapter from Advanced Reality, offers a faster, more efficient model for collaboration technology through contextual collaboration by passing small bits of data directly between computers.
The adapter, called Presence-AR, binds to the software in memory, reads the data that a user may be changing and passes it to another application on a different network in realtime. This allows multiple users to work on the same application at the same time without having to pass writing permission to each other.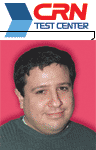 MARIO MOREJON
Technical Editor
Since only the data is being passed among computers, Presence-AR works considerably faster than older application-sharing plug-ins that track and pass only mouse and keyboard changes.
Presence-AR technology has already been ported to Microsoft Excel and PowerPoint, and adapters for other applications are in the works. There are some limitations, however, on the data types that can be shared. Excel and Quattro Pro, for example, can communicate with each other directly, but since formulas and macros are coded and interpreted differently between them, only data resulting from a cell-level process can be passed from one to the other.
Presence-AR performed flawlessly in all tests executed by CRN Test Center engineers. When access contention was tested, the product did not crash. Normally, users can block groups of cells and allow limited access to prevent such problems.

POLYCOM WEBOFFICE AND VIAVIDEO II CAMERA
Contextual collaboration as demonstrated by Presence-AR technology has the potential to change the current EAI landscape by tapping into the desktop application market, which has been largely ignored by vendors. Advanced Reality is planning to release an SDK and a macro language next year.
Polycom, a leader in videoconferencing and audio conferencing, is also taking collaboration in new directions with its WebOffice tool and ViaVideo II camera, which together offer a new method of videoconferencing over the Web.
Like other Web-hosted conferencing products, WebOffice provides application and file sharing. Unlike the rest, the tool provides videoconferencing, a granular security mechanism and a simple whiteboard where users can draw images or display snapshots of their desktops.
Security settings are easy to make and are highly granular. WebOffice can lock out users from video and audio files and applications in one session. Its videoconferencing feature automatically detects whether attendees have video connections and then automatically tries to connect to them.
Polycom has also revamped its ViaVideo camera and desktop software to make the product look more like a conferencing appliance. The software's new user interface looks more like Media Player than a typical Windows program. The software has three main buttons that simplify the dialing mechanism so that users don't need to know anything about how the desktop video unit connects to other ViaVideo cameras. In the ViaVideo interface, users can click on the Call button and immediately get a global directory listing of all accessible connections. The software also provides a simple contact manager where connections can be listed in alphabetical order or displayed by date.
Polycom's new ViaVideo also has a more sensitive CCD chip than its predecessor. The camera captures images even under poor lighting conditions, and it has higher image definition. Two Polycom ViaVideo cameras were tested using two D-Link Wireless Broadband routers. Both were able to project clear images from the local desktop under dim lighting conditions. When they were tested across two separate networks, the video units were able to send signals, but engineers could not receive any images through the software. All of the required network ports were opened, but engineers were not successful in receiving any transmission, even with extensive technical help from the company.
In addition, the H.323 videoconferencing standard,although it simplifies video-over-IP connections by opening multiple TCP and UDP ports dynamically,still leaves much to be desired. Even with a large range of ports opened, engineers were not able to get any images.
CHANNEL PROGRAM SNAPSHOTS
> POLYCOM WEBOFFICE AND VIAVIDEO II CAMERA
PRICE: $750 per seat for 25-seat license for software; $599 for camera
VOLUME DISCOUNT: Yes
MDFs: Yes
CERTIFICATION PROCESS: Purchase of demo unit and training required
TECH RATING: ***
CHANNEL RATING: **
CHANNEL OVERVIEW: Pleasanton, Calif.-based Polycom recently realigned its sales and systems engineering groups to provider better joint sales assistance and technical support to solution providers. The vendor provides 2 percent co-op funds and financial rewards to partners that meet certain sales criteria. Polycom also offers both online and classroom-based technical training for free and with fees, said Don Trimble, vice president of U.S. channel operations. ,Michael Gros
Note: Vendors can earn up to five stars for technical merit and five for their channel program. If the average of these two scores is four stars or greater, the product earns CRN Test Center Recommended status.
Printer-friendly version
Email this CRN article