Printer-friendly version
Email this CRN article
PC Wholesale reached an agreement to become the first two-tier distributor for MicronPC desktops, notebooks and servers, the companies said.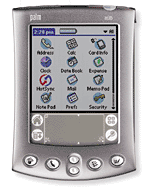 The Palm m505 was the best-selling PDA at D&H Distributing in the fourth quarter of 2001.
"[We chose PC Wholesale as our primary reseller distributor because they best align with our business model: PC Wholesale is well-established in the small- to medium-size reseller market and fills a unique and important segment within our overall channel strategy," said Adam Lerner, executive vice president at MicronPC.
Nampra, Idaho-based MicronPC traditionally has sold directly to end users and solution providers, competing with Dell Computer and Gateway. Last fall, MicronPC signed reseller relationships with CDW Computer Centers and Comark, parent company of PC Wholesale.
 

 THE 5 HOTTEST PRODUCTS
Best-selling PDAs at D&H Distributing 4Q 2001

>> 1) PALM: Palm 505
>> PALM: Palm m125
>> HEWLETT-PACKARD: Jornada 568

>> PAL: Palm m105

>> HANDSPRING: Visor Pro
 
The PC Wholesale partnership is evidence of MicronPC's belief in the channel, said Steve Heslop, co-director of PC Wholesale.
"MicronPC came to us because of the success with Comark," Heslop said. "It was a natural fit. We've had success with Gateway distribution. We're the only distributor for Gateway.
We want to piggyback on that success."
Comark partners with MicronPC to reach the federal and government markets, Heslop said. PC Wholesale will sell strictly to solution providers.
In addition to Gateway and MicronPC, PC Wholesale began distributing Acer systems last fall. The distributor finds that second-tier vendors are looking to penetrate the small-business market, he said.
About 80 percent of PC Wholesale's business is to solution providers with sales of less than $3 million a year, Heslop said.
"We really are the only distributor that has that kind of SMB focus," he said.
Printer-friendly version
Email this CRN article