This Week's Subject: Linux Support
Printer-friendly version
Email this CRN article
Solution providers have been growing more pro-Linux in the past several months, but barriers still remain before the operating system reaches general acceptance in the business marketplace, according to data from the December CRN Solution Provider Survey.
The percentage of solution providers that said Linux will be a viable alternative to Windows within 12 months in the SMB market jumped to 42 percent in December from 27 percent in July. Figures for the large-company market are lower, but also increased during this period.
But solution providers also see roadblocks in Linux's path. According to 53 percent of the 179 solution providers surveyed, application availability is a "significant impediment" to acceptance. Almost half of those surveyed ticked off technical support and overcoming corporate inertia as major problems to be overcome before customers accept the open-source operating system as an alternative to Windows.
Nonetheless, CRN sees Linux moving into the mainstream this year, in no small part due to its cost advantages over other platforms such as Windows NT and 2000. Linux solution providers are hard at work overcoming the platform's shortfalls.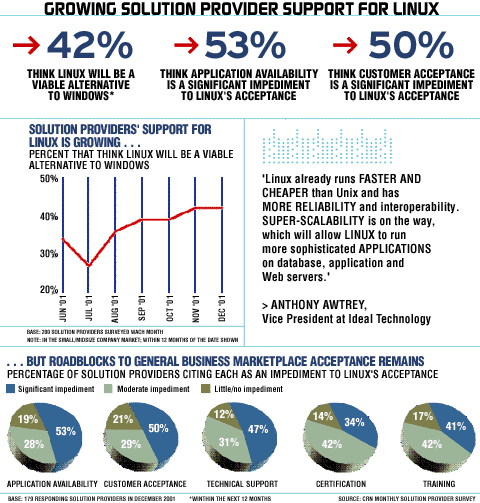 Printer-friendly version
Email this CRN article