Printer-friendly version
Email this CRN article
The European Commission, the regulatory body of the European Union (EU), last week approved the proposed merger of Hewlett-Packard and Compaq Computer without restrictions.
In getting the commission's OK, the two merger partners hurdled a potentially serious obstacle to the $22 billion deal, industry observers said. The merger, already under fire from HP board member Walter Hewlett, could have been delayed up to four months if the commission had sought stringent concessions.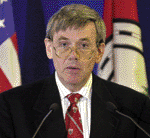 Hewlett: 'Transaction is a bet-he-comapny move that is not appropriate for HP.'
"If the European Union had put really restrictive conditions on the deal, that would fundamentally affect anyone's evaluation of whether the merger was worthy of proceeding with," said Ram Kumar, assistant director of U.S. research at Institutional Shareholder Services, a Rockville, Md.-based advisor to HP institutional shareholders.
"Now that the proposed Compaq merger has been cleared by the European Commission, we look forward to the vote and resolution of this important issue for all stockholders," Walter Hewlett said in a statement. "We believe that the transaction is a bet-the-company move that is not appropriate for HP."
But HP Chairman and CEO Carly Fiorina said in a statement that the EU's approval signals that the merger doesn't raise any anticompetitive flags in Europe. "We see it as an encouraging step in the continuing process of satisfying regulators worldwide that this deal will provide a real stimulus for competition in information technology markets," she said.
A final proxy statement from HP is expected to come shortly after the company releases fiscal first-quarter results, scheduled to be announced in about two weeks. A shareholder vote on the deal could come as early as March, Compaq Chairman and CEO Michael Capellas confirmed last week.
Printer-friendly version
Email this CRN article