New Catalyst 4006 control module aimed at converged networks
Printer-friendly version
Email this CRN article
Cisco Systems last week unveiled a new supervisor module for its Catalyst 4006 switch that's designed to bolster control of converged voice, video and data networks.
The Catalyst 4006 Supervisor Engine III, introduced at ComNet here, enables enterprise customers with Catalyst 4006 switches to roll out converged networks without replacing their network infrastructure, said Mark Foss, product manager for Cisco's Gigabit switching group. The upgraded module also gives Cisco solution providers the opportunity to upgrade the vast installed base of Catalyst 4006 switches, Foss said.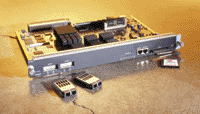 Cisco unveiled the Catalyst 4006 Supervisor Engine III control module at ComNet.
"This is a real opportunity for us," said John Freres, president of N2N Solutions, Schaumburg, Ill. "It helps our clients foster the investment they already have made in their infrastructure. Companies today are looking for strategic enhancements to their infrastructure."
The Supervisor Engine III integrates Layer 2/4 switching, quality of service (QoS), security features and management functions for Catalyst 4006 switches, which are primarily used as enterprise wiring closet or branch switches, according to Foss.
The Supervisor Engine III delivers a 48-million-packets-per-second forwarding rate in hardware for both Layer 2 and Layer 3/4 traffic. Compared with the Supervisor Engine II, the new module triples the Layer 2 forwarding rate and increases the Layer 3 forwarding rate eightfold, Foss said. Layer 3 capabilities were optional on the previous Supervisor Engine version.
The module also integrates Layer 2/4-based QoS and traffic management based on 32,000 QoS policies, he added.
On the security front, the control module supports 32,000 wire-rate Layer 2/4 access lists and includes capabilities such as authentication and client security. It also supports Web-based management for the configuration and control of all ports, Foss said.
N2N Solutions' customers will appreciate the fact that QoS and security features have been integrated into the switch's control module, Freres said.
Cisco is "moving security, QoS and other features closer to the switch," he said. "There are a lot of companies out there with Catalyst 4000s at the core that before had to supplement them with appliances to get these features."
The Catalyst 4006 Supervisor Engine III, available now, has a list price of $14,995. The Catalyst 4006 Chassis, with Supervisor Engine III and 2 AC power supply bundle, lists at a price of $19,995.
Printer-friendly version
Email this CRN article