This Week's Subject: Linux Support
Printer-friendly version
Email this CRN article
Over the past several months, solution providers have been growing more optimistic about Linux's prospects as an alternative to the Windows platform in the general business market, according to the CRN monthly solution provider poll.
In January, for example, 41 percent of solution providers surveyed said they believed Linux would be a viable alternative to Windows within the next year in the SMB market, up from 27 percent in July.
Despite the increase, slightly more than one-third of solution providers surveyed see the flip side; another 20 percent are uncertain. These figures have changed little in the past year.
The uncertainties about Linux center on factors such as application availability and customer acceptance. For example, 60 percent of solution providers think a lack of applications is a significant impediment to Linux's acceptance in the business marketplace, while 51 percent think the same for customer acceptance.
Linux solution providers, however, dispute the notion that these factors truly are barriers to expansion of the operating system into the corporate marketplace.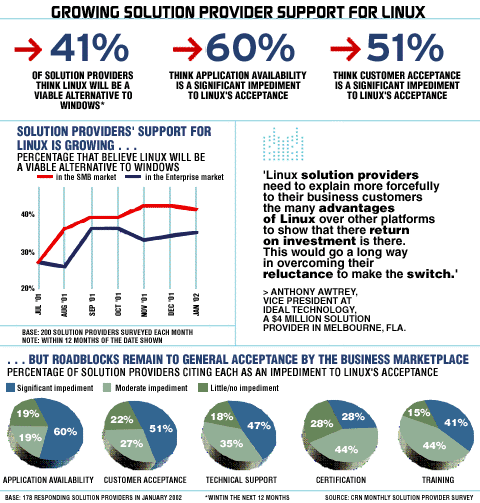 Printer-friendly version
Email this CRN article