PC plan in conjunction with distributors mirrors HP's midrange program
Printer-friendly version
Email this CRN article
With the Hewlett-Packard-Compaq Computer merger battle entering the homestretch, HP is exploring a direct-distribution PC initiative.
HP, which has endorsed Compaq's direct PC strategy, has a pilot program in the works called VAR Direct, under which HP would direct-ship PCs from its manufacturing facilities to either solution providers or their accounts. HP has a similar model in place with its midrange distributors called HP Integrated Partners.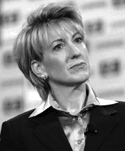 HP's Fiorina has said Hard Deck will be core strategy of the merged company.
HP already direct-ships PCs for a few large solution providers such as CompuCom. The VAR Direct program would dramatically expand that effort.
HP channel executives last week met with distribution executives in California to discuss the program and other issues, sources said.
Distribution executives declined to comment on VAR Direct.
"We are in a pilot with a couple of partners on some very large deals to see if that model works from an economic perspective," said Kevin Gilroy, HP's vice president and general manager of North America commercial channels.
But it appears that HP, unlike Compaq with its direct distribution efforts, is trying to keep from disintermediating its distribution partners as it pursues direct-distribution options.
"My vision is to ship to the VAR or his account and have the distributor handle credit and collection, have the distributor take the order [and have the distributor continue to provide the training," Gilroy said. "The difference is [distributors won't take title [to product, but function on a service provider basis. The real issue is not to go at these new models with an intuitive feeling that they are saving money, but to understand where the savings are," he said.
HP Chairman and CEO Carly Fiorina has committed to HP's Hard Deck program, which sets 900 named accounts for HP and leaves the rest for solution providers, as a core strategy for the combined company.
Furthermore, she has said HP needs Compaq's direct-distribution capability to be successful in the PC market.
HP-Compaq merger prospects were bolstered last week when the deal won a crucial merger recommendation from proxy advisory firm Institutional Shareholder Services (ISS) and cleared Federal Trade Commission regulatory hurdles.
But the merger is still being given only a 50-50 chance of success by most analysts. HP shareholders, who are being asked by dissident HP board member and co-founder's son Walter Hewlett to kill the $22 billion proposed acquisition, are scheduled to vote on the deal March 19.
The ISS report notes that "[HP management contemplates that Compaq's direct-distribution PC model could be profitably extended to HP's printer operations."
Patrick McGurn, ISS vice president, said the possible spin-off of PCs, imaging and printing and other product segments were discussed during HP's presentation to the proxy firm. HP also convinced ISS it had a viable channel strategy worked out for the new company, he said. "Channel and secondary relationships were things that were discussed pretty thoroughly with [HP because it does go to the integration-risk issues."
HP executives are not ruling out the possibility of a post-merger spin-off of the PC business. Fiorina raised the possibility of a spin-off last month in the wake of concerns that the merger thrusts HP more deeply into the commodity PC market.
SCOTT CAMPBELL contributed to this story.
Printer-friendly version
Email this CRN article