Printer-friendly version
Email this CRN article
Distribution executives aren't counting on much of an economic recovery this year.
Demand is building, but orders are not being placed, and measures such as an investment tax credit are needed to spur sustained growth, said executives at CRN's 2002 Distribution Roundtable here this month.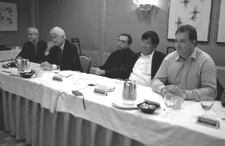 Roundtable executives say they don't foresee much of an economic recovery this year.
"There is an absence of further deterioration, but we're bouncing along on a hard bottom," said Steve Raymund, chairman and CEO of Tech Data, Clearwater, Fla.
The recovery will be slow and won't create a huge spurt of demand, he said.
Long-term growth will be 5 percent to 10 percent, not the 30 percent the IT channel had enjoyed for years, Raymund said.
Don Bell, president and CEO of Bell Microproducts, San Jose, Calif., said the IT industry is now paying the price for those years of high growth. "We'll be paying the price another six months before we're out of the woods."
High-tech companies still face equipment overcapacity at all levels from manufacturer to end user, said Bob Huang, president and CEO of Synnex Information Technologies, Fremont, Calif.
 

>> Solution providers agree with distributors that an investment tax credit would help.

 
A federal investment tax credit would help because it could lead corporations to spend more on IT projects, said Rick Hamada, president of Avnet Computer Marketing, Tempe, Ariz. "The business is turning back to offense, but I'm not smart enough to know when it will recover," he said.
Solution providers such as Brett Corbin, president of San Diego-based Networks 2000, echoed the distributors' statements that IT spending has not rebounded and a tax credit might help. "The government's already giving away a ton of money to get the economy rolling, but I think it would help get our industry going," Corbin said. "I wonder if [a tax credit would cover services, too. It's one thing to buy equipment, but you've got to train everyone."
Most IT products are now being purchased on an as-needed basis, said Mike Long, president of Arrow Electronics' North American Computer Products group, Englewood, Colo. Still, they are not the right products needed to drive real growth, he said.
"As companies start to recover, we'll see future productivity enhancements that will fuel more growth," Long said.
Printer-friendly version
Email this CRN article