Carrier training partners to sell service for small businesses
Printer-friendly version
Email this CRN article
WorldCom is not letting its bankruptcy strife or management woes stifle new services efforts.
The carrier confirmed last week it is training solution providers to sell a service aimed at small businesses, called Business Connection.
Partners said the service is an integrated circuit combining voice, Internet access and other solutions delivered over WorldCom's Uunet IP backbone.
For a flat monthly fee, the new service provides small businesses with DSL or T1 Internet access, voice-over-IP, domain name registration and hosting, an analog-to-Ethernet adapter, a Quality of Service device, hosted POP3 e-mail addresses, and unlimited local and long distance calling, said partners familiar with the service. The DSL service is available at speeds of 128 Kbps, 384 Kbps and 768 Kbps and supports up to 24 users, while the T1 access supports up to 48 users at speeds of 768 Kbps and 1.54 Mbps.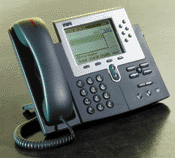 WorldCom partners say customers can lease or buy a Cisco IP phone 7960.
For an additional monthly fee, customers can sign up for firewall services and lease or buy the Cisco IP Phone 7960. Partners also said the service comes with a Web-based tool that lets customers change or add features such as call forwarding.
The partners did not know the pricing, and a WorldCom spokeswoman declined to provide details.
A limited number of partners have been trained on the new service, the WorldCom spokeswoman said. The carrier's internal sales team is just beginning to sell the solution, she added.
WorldCom partners said a service called Enterprise Connection also is set to roll out at the end of this year or the beginning of next year. The WorldCom spokeswoman said Enterprise Connection will be sold direct, but partners said it's likely the solution eventually will be available through the channel.
"Today, there is no Enterprise Connection available, but I expect we'll be able to sell it," said Jay Lewis, vice president of Visioncom, a master agent in Finland, Minn.
Lewis said his customers aren't fazed by WorldCom's bankruptcy filing and are still signing on for new services.
"People aren't leaving because [WorldCom filed Chapter 11," Lewis said. "They still have Uunet, which is a great network, and as I speak, people are buying WorldCom T1s, private lines and local dial tones from us."
Other partners said a growing number of small businesses are asking for integrated voice-data circuits similar to WorldCom's Business Connection service.
"The downside is the customer loses its entire communication infrastructure if the circuit goes down, but many small businesses are willing to risk that because of cost savings and the ability to have one throat to choke for their entire telco system," said Henry Kaestner, CEO and co-founder of master agent Bandwidth.com, Durham, N.C.
A challenge in selling Business Connection, however, will be the customer's location, said partners. "WorldCom needs to have a local footprint in the area to be able to deliver this service, so [WorldCom is equipping agents with a Web-based tool to test each customer site for availability," said an agent executive, who asked not to be named.
WorldCom's confirmation of the new services was made amid reports of John Sidgmore's disclosure that he will step aside as president and CEO of the company and reclaim his prior position as vice chairman once a replacement is found.
Printer-friendly version
Email this CRN article