Medallion Program based more on commitment than sales volume
Printer-friendly version
Email this CRN article
SonicWall next week plans to unveil a retooled channel program designed to reward partners more for their commitment to driving solutions incorporating SonicWall technology than for their ability to meet certain sales volume levels.
The Internet security appliances vendor, which targets the SMB market through a channel of 1,400 solution providers, is scheduled to launch the Medallion Program on Oct. 15, company executives said in an exclusive interview with CRN.

'I'd like to see the road map getting filled out with more innovative, differentiated products. We've gone too long with certain platforms and models, and we need to refresh it, enhance it and offer exciting products for our channel to sell.' --Bill Roach, SonicWall interim CEO
"We really want to identify and reward the partner who is looking to grow the market, increase their security business and lead with SonicWall to do that," said Mike Tippets, director of field and channel marketing at SonicWall.
Medallion offers solution providers three types of partnerships, based on level of commitment: Approved, Silver and Gold.
Approved Partners register with SonicWall and receive basic benefits, including a regular newsletter, Web training and cash incentives.
Silver Partners must have a Certified SonicWall Sales Expert (CSSE) and Certified SonicWall Security Administrator (CSSA) on staff, develop a marketing plan on a quarterly basis and hold one local marketing event per quarter. On top of the Approved Partner benefits, Silver Partners receive leads, MDFs and a 27 percent discount at distribution. They also get access to third-level technical support and are assigned a SonicWall field-sales rep and sales rep at the vendor's headquarters.
Gold Partners must have on staff a CSSE, two CSSAs and a Certified SonicWall Global Manager (CSGM) who is trained on the vendor's Global Management System. They also must complete quarterly business planning, hold two local marketing events and attend quarterly Gold Partner online training.
Additional benefits for Gold Partners include direct co-marketing activities, MDF accrual, a quarterly MDF incentive bonus and a 32 percent discount at distribution. Gold Partners also are assigned a technical account manager and can participate in a partner referral program.
Although SonicWall expects Silver Partners to sell an average of $40,000 of its products per year and Gold Partners to sell about $100,000 a year, it won't expel partners from Medallion if they don't meet those volumes, Tippets said.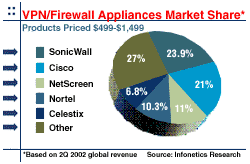 "Usually, these [channel programs are based entirely on volume. That just rewards the box pusher," he said. "We're really looking to help that guy who's beating the bushes and telling the customer he sold a Web server to last week not to forget about security."
SonicWall solution providers said the vendor is making the right move with Medallion. "It's definitely going to help us," said Joe Sykora, president and CEO of Inter Space Computers, Louisville, Ky. "This new program is going to standardize things so everyone is on the same playing field. There is an issue with e-tailers out there just moving boxes. We look to integrate solutions instead of just moving boxes."
What happens is that Inter Space and a customer agree on a price, but then the customer tells the solution provider he found the product cheaper on the Web, Sykora said.
Medallion should help reduce competition from e-distributors, which are "selling at absolutely the minimum price," said Mike Chaput, president and CEO of PCSNetworks, an Emeryville, Calif.-based solution provider.
"[The e-distributors are not so much driving demand. They're not out talking to customers," Chaput said. "What SonicWall is trying to do, from a margin perspective, is control that. So those partners who don't have SonicWall certified [staff or aren't actively prospecting for customers will have a higher buy price for the product," he added.
SonicWall has addressed the issue of online competition, said Justin Fetsch, account manager at Applied Communications of Minnesota, Spring Park, Minn.
"They've always asked us who our biggest competitors are. We've always said the dot-coms," Fetsch said. "They're offering [products cheaper than I can because they can have 200 [units on their shelf."
 

>> As it revises its channel program, SonicWall faces competition from NetScreen and Check Point.

 
Lately, SonicWall has been going in the same direction as other vendors: focusing on selling solutions, not just moving products, said Todd Barrett, network sales manager at CPU Sales and Service, Waltham, Mass. "Everyone's starting to recognize that you can't have the shotgun approach and get anywhere," Barrett said. "[Medallion will cut out some of the price choppers and reward those who are committed."
Leigh Older, CEO of The IntegrationWorks, a Tustin, Calif.-based solution provider, said that with Medallion, SonicWall is taking more of an interest in the solution provider than any other vendor he's worked with.
"They're taking an interest in looking not just at the number of firewalls moved but also the effort, time and money that we spend as a partner promoting their product line," Older said. "By providing this structure and this type of program, it's going to help us do better and, in turn, help them be more successful. And ultimately, the customer's going to benefit," he noted.
Inter Space's Sykora said he thinks Medallion will provide him with more support and enforce SonicWall's Minimum Advertised Price (MAP) policy, which applies to Silver and Gold partners. Partners that violate MAP more than once are expelled from Medallion.
"We ask partners not to advertise below a certain level," SonicWall's Tippets said. "Let's not make the big guy beat the small guy just because he has a Web site or can do a huge e-mail blast."
As it revises its channel program, SonicWall faces a growing field of competitors, including NetScreen Technologies and enterprise heavyweight Check Point Software Technologies, which is trying to expand into the SMB space.
And like other IT vendors, SonicWall is struggling in the sluggish economy. The company projects third-quarter revenue of $23 million to $26 million, down from $27.8 million a year earlier.
SonicWall needs to "continue to pound the pavement until the market gets better" and drive upgrades and new sales by rolling out an updated product line, PCSNetworks' Chaput said.
In an interview in August, SonicWall interim CEO Bill Roach said he wants to see the company step up product development. SonicWall's current lineup of security appliances provides firewall protection and VPN connectivity.
"I'd like to see the road map getting filled out with more innovative, differentiated products," Roach said. "We've gone too long with certain platforms and models, and we need to refresh it, enhance it and offer exciting products for our channel to sell."
SonicWall remains committed to the SMB market and the channel, Roach noted. Approximately 85 percent of the company's business goes through solution providers, he said.
"Everything we do we design for and with our channel," he said. "So products we conceive, the services we offer, the support that we provide and the positioning we do is all in mind of product delivered through that channel."
Printer-friendly version
Email this CRN article