Printer-friendly version
Email this CRN article
Apple CEO Steve Jobs on Tuesday took the wraps off the company's long-rumored iPhone, a device that marries iPod and mobile phone functionality and runs Mac OS X applications, and Apple TV, which allows video content from computers to be played on televisions.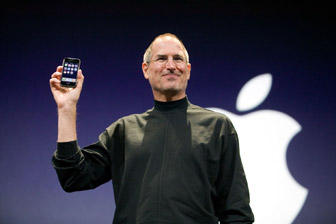 Slide Show: The iPhone And Apple TV
In a keynote speech Tuesday at Macworld in San Francisco, Jobs showed off the sleek, 11.6mm-thick device, which includes a single button and a 3.5-inch screen. The iPhone's key feature is a user interface technology called Multi-Touch that lets users navigate device functions using their fingertips.
Apple plans to build on the Multi-Touch interface with new software that goes far beyond traditional smart-phone functionality, Jobs noted. "Today, we're going to show you a software breakthrough, software that's five years ahead of what's on any other phone," he said.
The iPhone also features quad-band GSM and EDGE phone functionality with support for Wi-Fi and Bluetooth, as well as a 2 megapixel camera and screen resolution of 160 pixels per inch. Using Apple software, users will be able to synchronize digital content and display it on the device.
Cingular will be the sole carrier for the iPhone, which will be available in June and comes in a 4-Gbyte model for $499 and an 8-Gbyte model for $599, including a two-year Cingular contract, Jobs said.
The iPhone will allow Apple to create desktop-class applications, as opposed to "the crippled stuff" found on most smart phones, Jobs said. At the heart of the innovation will be Multi-Touch, which will allow users to tap their way through navigation menus and play music, watch movies, view photos and browse the Internet using Safari, he said.
"We're bringing breakthrough software to a mobile device for the first time," Jobs said.
Jobs cited the user interface work of Alan Kay, formerly of Xerox's Palo Alto Research Center (PARC) and current president of educational technology think-tank Viewpoints Research Institute, as the inspiration behind the iPhone.
With the product, Apple may be headed toward a trademark dispute with Cisco Systems, whose Linksys division recent launched a series of VoIP products under the name iPhone.
Jobs also announced Apple TV, a $299 box that features a 40-Gbyte hard drive and 720p high-definition video that will allow users to wirelessly transmit digital video, music and photos from their computers to TVs. Apple TV supports 802.11b/g/n, includes an Intel processor and allows users to stream content from up to five computers.
Printer-friendly version
Email this CRN article