Printer-friendly version
Email this CRN article
Buying a replacement PC can be a challenging proposition for the typical business user. It's not so much selecting the hardware, but how to get the old software and data transferred onto the new system. Fortunately, system builders can come to the rescue by bundling in software that moves applications and data from old systems to new systems.
One such example is PCmover from Laplink Software. The latest version offers full support for Windows Vista. The product effectively can move applications and associated data from previous versions of Windows over to Windows Vista. System builders will find that the product supports transfers from Windows versions as old as Windows 95 to Vista's predecessor, Windows XP.
What's more, it allows for migrations to and from a Macintosh running Parallels Virtualization Software or Apple's Boot Camp. That capability allows system builders to move customers off Mac systems and onto Vista PCs.
Of special interest to system builders is the fact that Intel has partnered with Laplink to make PCmover available at a discount to white-box builders. That arrangement offers system builders a much more attractive price on the product than the MSRP of $60 and makes it affordable to bundle with a new PC.
PCmover can use a network connection or a USB cable to transfer information across PCs. In short, it works by installing the application on both the old and new PC. The user then launches the application to establish a connection between the two systems. PCmover creates a "snapshot" of both systems and then the user can choose what to migrate from the old system to the new system.
The product is licensed to the old PC and can only be used to transfer information from that PC, so users will need a copy for each PC to be upgraded.
PCmover could prove to be an incredible time saver for those deploying new systems and should help system builders sell upgrade PCs to customers that have spent hours customizing their existing PCs.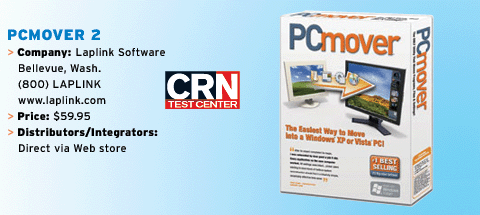 Printer-friendly version
Email this CRN article