Printer-friendly version
Email this CRN article
Adtech Global Solutions is a $49 million system builder mining the flood of Homeland Security opportunities expanding in the post-9/11 era.
The Alpharetta, Ga., firm, which caters exclusively to OEM and ISV customers and their resellers, enjoyed a high rate of growth last year—a 37 percent increase in unit sales—selling computer and storage systems to clients that include military customers designing weapon simulators and vendors developing security and surveillance systems to meet Homeland Security initiatives, executives said.
Last year, AGS sold a total of 7,871 computers, a significant jump from the 5,755 systems in 2005. Server sales represented the bulk of that growth, increasing 36 percent to 4,619 systems in 2006. Desktop unit sales grew 33 percent to 2,828 PCs sold.
Executives attribute the growth spurt to AGS' mix of hardware sales and systems integration services as well as its ability to provide end-to-end solutions, including consulting services, the creation of application-specific hardware, implementation services and post-sales support. Hardware represented about 70 percent of its $49 million in sales in 2006, while services accounted for the remaining 30 percent.
AGS builds unique systems for specific applications—not off-the-shelf PCs and servers for generic computing needs, its CEO said. "One of the many things that differentiates us from our competition is that we don't have an AGS line of servers or desktops," said Tim Shadburn, the 38-year-old CEO of AGS, who co-founded the company in 1999. "We design solutions to meet each individual partner's needs."
High Touch, a retail POS software vendor, has been a customer since its Avnet representative switched to AGS four years ago. Avnet formerly did the company's custom system building.
Jason Mock, director of purchasing at High Touch, said AGS' engineering talent is "lights out compared to anything we've seen," and its ability to "locate, source and certify components" based on its custom needs is a major advantage. He pointed out, for example, that AGS has been able to source custom motherboards for its retail POS system that offer a longer life cycle than standard off-the-shelf boards.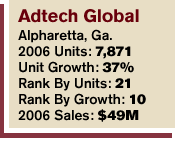 Eight-year-old AGS was originally a systems integration and hardware company before it merged with Norcross, Ga.-based system builder Global Embedded Solutions in late 2004. As a result, while it still gets a fair share of business from solution providers in the computer telephony and call center and growing broadcasting and medical industries, executives see its strongest growth in key verticals where Global Embedded played, such as security, surveillance and military applications, according to Tyler Patterson, vice president of sales and marketing at AGS.
Security and surveillance solutions, for instance, require more and more storage—hundreds of Tbytes of storage—for data collected by security cameras being deployed in subways and motorways, Patterson said. The number of storage systems AGS sold in 2006 nearly doubled to 375 units.
Over the past two years, AGS has served as the manufacturing and assembly partner of security and surveillance vendor Steelbox Networks. AGS expects to more than quadruple the amount of business with Steelbox in 2007, Patterson said.
"AGS is a vital part of the success Steelbox Networks has had to date, due in part to their ability to help us respond to our clients' changing needs," said Jim Jordan, vice president of engineering at Steelbox.
But the "biggest pop," Patterson said, comes from the military sector. It's not a new vertical for the company but one that is generating strong returns after years of investment.
AGS expects to grow revenue between 10 percent and 20 percent again in 2007, and reach the $55 million mark. In January, the company achieved
ISO certification, which will open up new doors in government and security markets.
Printer-friendly version
Email this CRN article