Printer-friendly version
Email this CRN article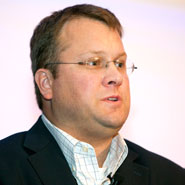 Todd Croteau
The managed services market will experience a major shakeout by 2013, according to one leading MSP.
Todd Croteau, the CEO of All Covered, a national Managed Service Provider (MSP) serving small businesses, Thursday told an audience of solution providers at CRN's Fast Growth awards event that he sees a huge decline in the once-booming MSP market.
Specifically, Croteau predicted that the number of MSPs will drop from 10,000 in the U.S. to 6,500 over the next three years. And that doesn't include what All Covered views as "trunk slammers" -- one or two man shops with little technology expertise competing in the crowded MSP market. "The shakeout is just starting in our space," he says.
The MSP shake-out comes with Croteau predicting there will be little change over the next three years in the bleak economic conditions that are hindering small businesses. "The economy we are seeing right now is not going to change a lot over the next three years," he said. "There are not a lot of jobs being created."
Croteau was featured in a luncheon fireside chat hosted by CRN Managing Editor Online Rob Wright on "Surviving the Great Recession In One Piece." The session also featured Doug Ford, former founder and CEO of I.T. Pros, which was acquired by All Covered in May. The session was based on an in-depth look at the financial pressures facing solution providers in the September CRN issue called "When Fast Growth Is Not Enough."
Next: Dealing With The Economic Downturn
Printer-friendly version
Email this CRN article