Printer-friendly version
Email this CRN article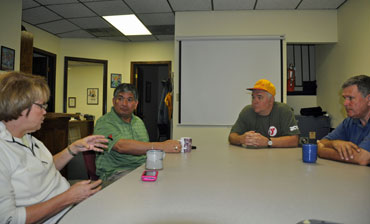 From left: Jane Cage, Heartland Technology Solutions; Cookie Estrada, Joplin Family YMCA; Arlin Sorensen, Heartland and Larry Hedin, Heartland.
Donations from the IT industry are pouring into Joplin, Mo., to help VARs and businesses hit by the tornado that tore through the city May 22.
Heartland Technology Solutions, a Joplin-based VAR, on Friday delivered a Mitel 5000 phone system and 12 handsets, donated by Mitel, to the Joplin Family YMCA, which had announced the previous day that it would offer free day care to families impacted by the tornado.
Home Depot donated $100,000 to the YMCA to help run the program but the YMCA has struggled to meet the demand of people calling in with requests for child care. More than 300 signed up the first day and the demand is expected to increase, said Cookie Estrada, CEO and executive director at the Joplin Family YMCA.
The new phones will be a huge help for families trying to get through to give kids something to do while the sort through all the damage, Estrada said.
Heartland executives told Estrada Friday morning of the incoming system.
"Will that help?" asked Jane Cage, Heartland's COO.
"Wow, you don't know how much. I don't know if you understand the scope of why that's so important, but thank you," said Estrada to Heartland executives Cage, Arlin Sorensen and Larry Hedin.
Hewlett-Packard also donated a server for Heartland to install at the YMCA too. The Joplin YMCA is also taking donations through www.joplinfamilyy.org.
Meanwhile, Heartland is also expecting a large shipment of servers, laptops, switches and printers to give to the community.
HP and other vendors, including Cisco Systems, Dell and APC also made sure quick deliveries arrived for SNC Squared, a Joplin, Mo.-based VAR that had its office right in the path of the tornado. Its office was obliterated and employees are now working out of the home of CEO John Motazedi. "We have a mix of customers that are completely gone and some not at all," Motazedi said.
Many of SNC Squared's customers also lost their offices and the VAR's employees have been able to recover some customers' servers and other equipment, but in many cases stuff is just gone, Motazedi said. Still, despite having his own office wiped out, Motazedi said supplies from vendors have allowed him to get 100 percent of his customers up and running, at least virtually.
"We cut a check ourselves for some of it, but they've been really good to say don't worry about that for now," Motazedi said.
Printer-friendly version
Email this CRN article