Printer-friendly version
Email this CRN article
No. 5: MICROSOFT CORP.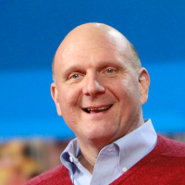 Steve Ballmer, CEO
Microsoft CEO Steve Ballmer certainly made sure members of Congress knew where he stood with regard to the passage of ARRA.
"Microsoft strongly supports passage of the conference agreement announced today between the House and Senate on the American Recovery and Reinvestment Act of 2009 (H.R. 1), and I urge Congress to act now," wrote Ballmer in a letter to every member of Congress on Feb. 11, 2009. "We believe the final conference agreement will help families during this difficult economic time, create and save jobs, and begin to put our country back on the path toward long-term economic growth."
Microsoft, which announced plans to lay off 5,000 employees just two days after President Obama took office, was one of the first to benefit from the stimulus with $11 million in funds awarded to the state of Washington and City of Redmond. Those funds were used to build a bridge connecting Microsoft's East Campus to its West Campus at its Redmond, Wash., corporate headquarters.
The spending raised eyebrows in conservative circles, with a blogger on the website "Below The Beltway" calling it "Microsoft's Bridge To Nowhere." A Microsoft spokesman in an email to CRN emphasized there were no ARRA funds provided directly to Microsoft for the bridge project, which he called a "roadway designed to reduce congestion in an urban center with more than 600 businesses and 5,000 residences." That roadway includes a bike path and sidewalks and for the first time connected the East and West Microsoft campuses. Microsoft said it provided roughly $17.5 million in funding, or about 50 percent of monies for the public works project, which had been a priority for more than a decade. The Microsoft spokesman said the bridge has improved traffic mobility by 4 percent, which he called a "significant number among experts who study traffic issues."
The Microsoft spokesman stressed that the company "did not lobby the White House or Congress for earmarks under ARRA. Your characterization that somehow Microsoft was included in these projects as a result of lobbying efforts is just flat-out wrong." An "average monthly number of 44 full time equivalent jobs" were supported by the Microsoft bridge project, according to the Washington State Department of Transportation, with a monthly peak reporting of 105 FTEs in October 2009. Washington State Secretary of Transportation Paula Hammond said that overall the stimulus saved or created 6,027 jobs on $555 million in ARRA funds for the state Department of Transportation. "When I hear people say ARRA didn't work, I say, 'Yes it did. It worked in transportation.' " She said the legislation came as "contractors were scrambling to find something to keep their workers and their businesses moving."
The Microsoft bridge project was one of many "shovel-ready" projects that already were in the works before the stimulus package was approved, said George Mason University's de Rugy.
"In order to spend that much money that quickly, the government had to use channels of spending that existed," said de Rugy. "A lot of the money went to companies that submitted plans before there was even a stimulus," she said. "There was not a committee to vet and assess the projects. The idea was to spend money quickly. You can't spend money quickly and do a real good job at assessing how the money would be best spent."
NEXT: Microsoft Continued
Printer-friendly version
Email this CRN article