Printer-friendly version
Email this CRN article
No. 4: COMPUTER SCIENCES CORP.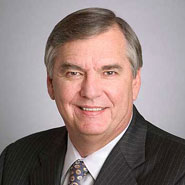 Michael Laphen, Chairman President and CEO
If you figured $29.02 million in ARRA funds invoiced to the federal government would put a lot of unemployed U.S. citizens to work during the economic downturn, you'd be wrong. That is how much systems integration giant Computer Sciences Corp. received to put in a "high-performance compute system" at the National Oceanic and Atmospheric Administration Environmental Security Computer Center as part of a $30.13 million contract. Those funds resulted in CSC reporting a single job funded for each of the seven quarters of reporting, according to the Recovery.gov website.
CSC said in a press release on May 14, 2010, detailing the award that the $30.13 million was actually part of an estimated $317 million four-year "indefinite-delivery/indefinite-quantity" (IDIQ) contract with the first year of the deal being funded with $49.3 million "using funds" from ARRA.
CSC said the contract had a "four-year base period, one four-year option and one one-year transition option, bringing the estimated contract value to $317 million if all options are exercised. The first year will be funded at $49.3 million by NOAA using funds from the American Recovery and Reinvestment Act of 2009."
"We are proud to work with NOAA in helping the nation better understand how the Earth's climate is changing, which will aid in the development of adaptation and mitigation strategies," said Mike Gaffney, president of the CSC Civil and Health Services Group, in the CSC press release announcing the deal. "CSC is confident that with the new high-performance computing facility, NOAA will be able to produce more accurate and agile models and share computing resources across the agency and its research partners."
The NOAA contract came with CSC's lobbying expenditures nearly doubling from $980,000 in 2008 to $1.82 million in 2010, according to the Center for Responsive Politics. Overall, CSC spent $5.88 million in lobbying expenditures during the Obama administration, according to the Center for Responsive Politics.
As for total ARRA funds, CSC received a total of $77.19 million on 34 awards, according to the Recovery.gov website. For $48.52 million on seven prime recipient awards, CSC reported 127.04 jobs, according to the Recovery.gov website.
CSC refused to comment on how much in ARRA funds it received, how many jobs were created as a result of those funds or on its U.S. headcount.
Former CSC Chairman President and CEO Michael Laphen, who headed the services giant for most of the Obama administration years and retired in 2012,
NEXT: General Electric
Printer-friendly version
Email this CRN article