Printer-friendly version
Email this CRN article
No. 3: GENERAL ELECTRIC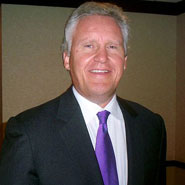 Jeffery Immelt, Chairman and CEO
Just six days after President Obama was elected, GE Chairman and CEO Jeffery Immelt addressed 1,200 attendees at the annual Business For Social Responsibility conference.
The world economy was in a free fall and attendees were looking for some guidance from the head of one of the world's largest corporations. Immelt's message: The economic downturn represented a fundamental "reset" that, for better or worse, was going to result in greater government involvement in the economy and business. Those that get that will prosper, he told attendees, and those that don't get it will not.
GE has been awarded $241 million in ARRA funds on 158 awards. As a job creation measure, for $45.68 million as a prime recipient on 25 awards with $34.60 million in funds received so far, GE has reported job funding of 567.95 jobs. That amounts to $60,920 per job. The awards came with GE spending $103.21 million in lobbying expenditures during the Obama administration, according to the Center for Responsive Politics.
A GE spokesman in an email response pointed out that the ARRA funds awarded to GE were for "research grants, direct contract and subcontract awards from third parties, including state and local governments, and tax credits to incentivize community bank loans. To put this in context, if these funds were received in one year (instead of spread out over several years), it would be less than one-tenth-of-one-percent (0.01%) of company revenues."
Among the GE awards according to the Recovery.org website, are energy-related funds including a $15 million award from the Department of the Navy to "demonstrate technologies to reduce specific fuel consumption" in F/A-18E/F and E/A-18G aircraft engines; a $2 million award with the Department of Defense for "Smart Micro-Grid Energy Management Controls for Improved Energy Integration" at Department of Defense installations; and a $649,903 award from the Department of Energy related to "training for the development of a Smart Grid Center of Excellence."
Immelt, who was appointed in January 2011 to head up President Obama's Council on Jobs and Competitiveness, is listed as having 25 appointments in the White House visitor's log.
At the kickoff meeting of the president's jobs council on Feb. 24, 2011, Immelt told the president: "I'm glad to be a part of this group. I really like the way it has come together."
He also told President Obama that the council members agreed that they wanted the group to be "laserlike focused on creating American jobs."
"We don't like the cynicism that exists in the economy today," he said. "We view that we share the responsibility in the private sector, in the private markets to do the things that are important to create jobs in this country, good jobs."
Despite the stimulus funds, GE's U.S. employee population declined by 14 percent during the stimulus fund investment by the federal government. In a 2008 GE Citizenship Report, GE listed 152,000 employees in the U.S. with $85.3 billion in sales in the U.S. Today, the company has 131,000 U.S. employees, according to a GE spokesman, making the company "one of the largest employers in the U.S."
NEXT: Honeywell International
Printer-friendly version
Email this CRN article